While official BBC News apps have been available for iOS around the world for some time, the UK has been feeling a little left out after they were delayed by the Beeb. Finally, though, the apps have been released and are now ready for download.
The apps were originally scheduled to be launched in the UK back in April, but the release date was pushed back after concerns were raised that a free app could have a negative impact on the competition. The Newspaper Publishers Association felt that a free BBC app could "damage the nascent market".
Of course, numerous news sources have apps for iOS that either require a fee or rely on advertising to provide a revenue stream to the publisher. According to Dominic Ponsford of the Press Gazette, "the concern the newspaper industry has is that the survival of our big independent news organisations largely depends on them being able to make money from new platforms other than print".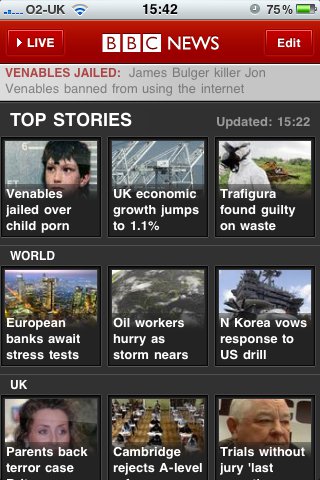 However, the BBC Trust concluded that the release of these apps wouldn't be a significant departure from the corporation's existing services, though will continue to monitor the situation.
This is hardly the first time that Auntie has courted controversy with its commercial competitors. The corporation's TV, radio and internet services are often seen as anti-competitive and blamed for hurting the profitability of other media outlets.
The corporation also took the opportunity to restate that other versions of the app are in development. While iOS is the focus for the time being, Android and Blackberry versions are in the works. On top of this, specific BBC Sport and iPlayer apps are also on the way, and should be available for iOS "soon".
We're big fans of the Beeb's news services, so are glad to see an official app finally reach these shores. Those who want to try it out for themselves can download the app from the iTunes App Store now.