Well here's one that seems to have slipped by us following its initial introduction back in 2010. From the start of next month, we'll be seeing products in Europe making full use of LG's latest flexible e-paper displays, as the firm successfully enters mass production.
The technology, termed EPD, Electronic Paper Display, utilises e-ink technology in combination with a plastic layer and, is capable of bending at an angle of up to 40 degrees from the centre of the screen, whilst, at the same time, being up to one third thinner and half the weight of competing glass displays, at a thickness of 0.7mm and a weight of 14g, in a six inch form-factor.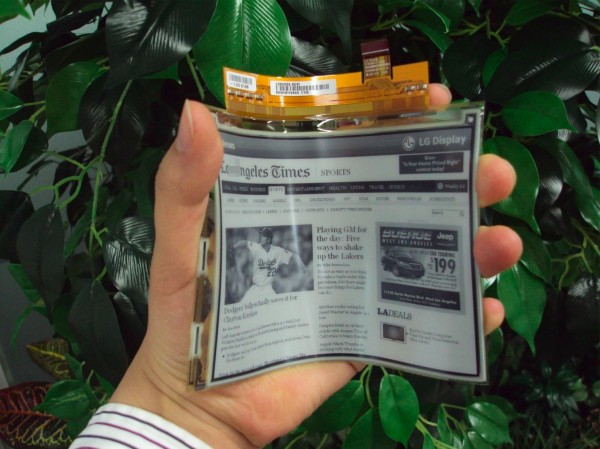 Most impressively, the display will feature an XGA, 1,024 x 768 resolution, which works out at 213 pixels-per-inch, a marked improvement over e-readers such as Amazon's Kindle, which feature an 800 x 600 resolution and thus a density of 167 pixels-per-inch.
LG also noted that the screen comfortably passed drop tests of 1.5 metres and would tackle the issue of screen damage, which the firm claims to affect 10 per cent of all e-reader users.
As a final teaser, LG made sure to remind everyone to expect flexible OLED displays to follow in the not-so-distant future.