The eagerly anticipated new Samsung flagship smartphone, the Samsung Galaxy S4, code-named "Altius" is to be launched at an event on 22nd March and then released on 15th April according to a report on Asian Economies News. The next Samsung Mobile Unpacked event showcasing the new smartphone will take place in the USA and is rumoured to be the largest ever.
The Mobile World Congress (MWC) 2013 is arranged for 25-28 February 2013 in Barcelona and Samsung has again decided to launch a major smartphone after, rather than during, this busy smartphone-centric event. While there is only one date put forward for the unveiling (22nd March) the launch has a couple of possibilities. SamMobile's sources suggest a release date of Monday 15th April but a leaked Samsung Galaxy S4 image suggests Monday, 22nd April (at 10.45am!). However the SamMobile guys think the image below is not genuine because "the UI looks exactly the same as the current nature TouchWiz UX, the design of the device is very similar to the Galaxy Note II and Samsung never uses battery percentage icon in their Mobile Phone press shots."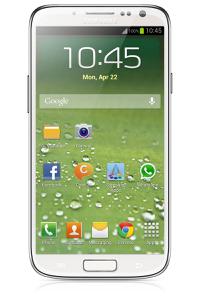 click to enlarge

Samsung Galaxy S4 rumoured specs
Processors: Exynos 5 Octa (8-Core) CPU, Mali-T658 (8-Core) GPU
Display: 4.99″ Super AMOLED Full HD Resolution Display
Operating System: Android Jelly Bean 4.2.1
RAM: 2GB
Cameras: 13 Megapixel Rear facing Camera capable of shooting 1080p Full HD Videos at 30FPS, 2 Megapixel front facing camera capable of shooting 720p HD Video
Code Name: Altius
Model Number: GT-I9500
Colours: Black / White
Battery Capacity: 2600 mAh
Special: Wireless Charging Kit
Naming dilemma
With all of these details "known" it may be surprising to hear that it's not inevitable that the next Samsung Galaxy S flagship will be called the Samsung Galaxy S4 or Samsung Galaxy S IV. In many East Asian countries the number four is seen as very unlucky and is usually avoided, the people are tetraphobic. This is largely due to the number four and the word death being homophonous in many of the East Asian languages.
Previous tech companies have paid attention to this aspect of Asian culture by avoiding the number four. Psion skipped the Series 4 and Nokia skipped the 4th edition of the S60 mobile OS. Even Microsoft decided to skip from Windows 3 to Windows 95... Now, as you can see, the next Samsung Galaxy S flagship's model number has seen an increment to GT-I9500 in SamMobile's "100% confirmed" details above. Because it's 2013 I'd like to suggest the name Samsung Galaxy S 13, this would solve both the unlucky four problem and be relevant and timely.
Overall the Samsung GT-I9500 spec looks very impressive but I hope the form has some surprises to it after seeing the possibilities with new materials for screens shown off at the recent CES in Las Vegas. Hopefully the picture above really is just an unimaginative mock-up...