If you've been wondering whether Google's new line-up of Nexus products would be popular in the UK and indeed, the world at large, then wonder no more; the answer is an unequivocal yes.
On their first day of sale in the UK, both Samsung's Nexus 10 16GB and 32GB units sold-out, with ASUS's new 3G variant of the Nexus 7 32GB also disappearing from stock in the same time-frame. Released slightly later-on, LG's Nexus 4 8GB and 16GB handsets cleared off-the-shelf within minutes, besting tablet siblings.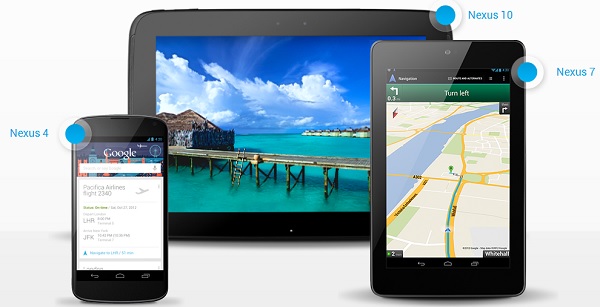 Google's Current Nexus Line-up
| | |
| --- | --- |
| Nexus Product | Price |
| Nexus 10 16GB | £319 |
| Nexus 10 32GB | £389 |
| Nexus 7 16GB | £159 |
| Nexus 7 32 GB | £199 |
| Nexus 7 32GB + 3G | £239 |
| Nexus 4 8GB | £239 |
| Nexus 4 16GB | £279 |
Built to a budget, no one is quite expecting the Nexus 4 to become a market leader, however with specifications superior to a Galaxy S III and an unadulterated copy of the latest Google Android 4.2 Jelly Bean operating system, for £239 contract-free, we can easily understand just why the Nexus 4 is such a steal, likewise, the Nexus 7 and 10 both offer significant functionality for the cost.
Over in the US, Google has accidentally sold too many Nexus 4 devices, following excessive demand and, has had waive delivery charges for users who must now wait three weeks for their device:
Thank you for your recent purchase on Google Play. Due to overwhelming demand, your Nexus 4 is on backorder and is expected to ship within three weeks. We'll send you a notification when your order has shipped and will credit the shipping charges.

To check the status of your order at any time, visit the link below: https://wallet.google.com/manage/#transactions

If you would prefer to cancel your order, please reply to this email and our team will assist you. Or you can cancel your order using our online tool. Please follow the instructions found here:
http://support.google.com/googleplay/bin/answer.py?hl=en&answer=2423477

We apologize for any inconvenience and thank you again for your order.

Thanks,
The Google Play Team
Once the initial selling craze settles down and we begin to receive some concrete sales figures, it'll be interesting to see just how many Nexus devices Google sells over the next few months to a year.