With the market yet to calm-down over the release of Samsung's GALAXY S III smartphone, it has been revealed, only three days after the unveiling of Apple's iPhone 5, that Samsung already has plans to introduce the world to the GALAXY S IV, at next year's Mobile World Congress, in February.
The Korea Times claims that this information has been confirmed by both Samsung execs and suppliers. Actual stock of the phone will likely be hitting shelves just prior to March. So why the sudden forward-push to the schedule?
For one, Samsung had managed to sell 20 million GALAXY S III's in just three months, with predictions of 30 million sales before the end of the year - showing execs that there's big bucks to be made, comparable to that of its component sales division and, that the firm has what it takes, with a now well-established consumer base.
Returning to component sales, it was recently confirmed that Apple has been shifting orders of components away from Samsung, slowly but surely, reducing the firm's motivation to protect its business with Apple, instead inspiring a more competitive approach, which has been further reinforced by the recent legal damage dealt by Apple.
4G is another motivator. Come March, all UK networks should be offering 4G services and with support for the standard continuing to crop-up around Europe, Samsung needs a smartphone clearly and strongly branded with world-wide 4G LTE support. Further motivation is offered-up by the revelation that Apple's iPhone 5 will only support Everything Everywhere and perhaps Three's 4G networks in the UK, leaving an enticing gap in the market.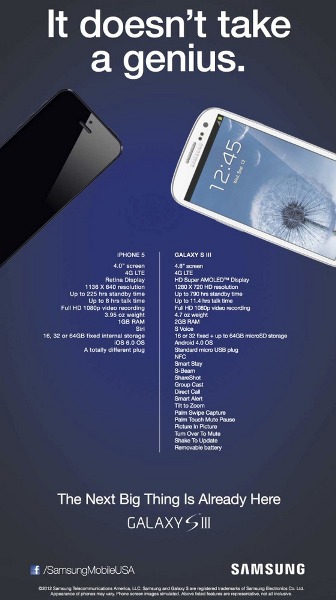 Of course, the iPhone 5 is a motivator as well. Met by mixed reactions, the device has stuck with the very much, love it or hate it, Marmite-like design of the iPhone 4, having received the usual thinning treatment, yet has forgone inclusion of features like NFC and has a rather odd, sub-720p screen resolution. It's difficult to say right now that, despite being the latest device on the market, the iPhone 5 is automatically superior on paper to the competition.
For Samsung, right now Apple is exposed and, it's time to hit hard. If Apple sticks with its yearly release schedule, then Samsung will be gaining some serious ground over the firm that has typically led the market. Likewise, if Apple decides to pull-off an iPhone 4s-style early refresh, Samsung will have adjusted accordingly.
Things are really starting to heat up!