In additional to the impressive modular G5 smartphone, LG has introduced a range of companion devices. Together with the LG G5 these 'friends' create "a paradigm-shifting smartphone ecosystem" referred to as the 'LG Playground'. In short, these are various mobile accessories designed to enrich your enjoyment of the LG G5 and include; a VR headset, a 360 degree camera, a rolling IP camera equipped robot, a drone controller and a pair of audio headsets.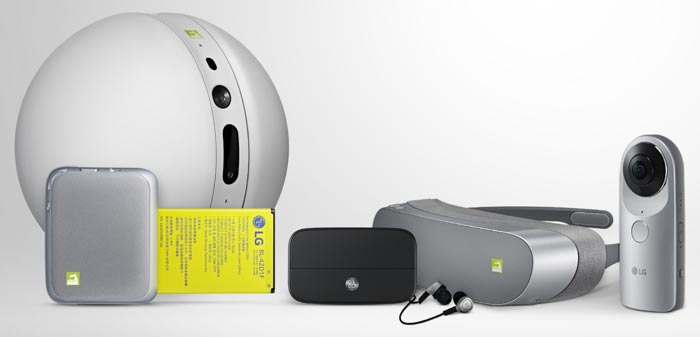 LG 360 VR
This device is compatible with all Google Cardboard content as well as videos and images captured with the LG 360 CAM (detailed below). However it is only compatible with the LG G5 smartphone. In use it is much lighter than many Cardboard compatible headsets (weighing just 118g) as the smartphone isn't inserted in the device but connected via a dedicated cable.

LG says that the device, with its 639 ppi screen, simulates a 130-inch TV viewed from two metres away. It is foldable and easily portable.
LG 360 CAM
This is a compact device sporting an opposing pair of 3MP 200-degree wide angle cameras. As such it can constantly provide full coverage of a 360 degree view. It provides 2K video and 5.1 surround channel recording on three microphones to conveniently create 360-degree content with ease.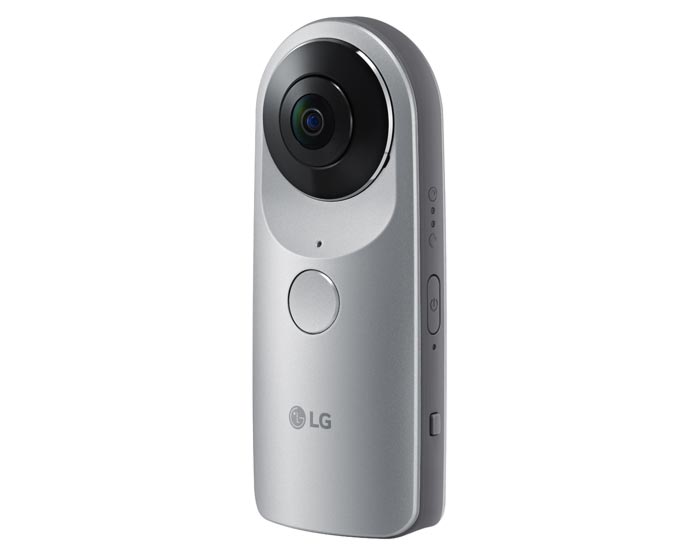 The LG 360 CAM is a standalone device which is powered by a 1,200mAh battery, with 4GB internal memory which can be supplemented by a microSD card. You can connect it to your G5 to download and share the imagery. LG says that the camera output files are compatible with Google Street View and YouTube360.
LG Rolling Bot
The rolling bot travels around capturing images and videos from a built-in 8MP camera. This isn't just a toy, insists LG, as it could be used for a monitoring system for the home, pet care companion as well as a remote controller for compatible home appliances. For example, the IP-connectable camera live stream allows users to remotely monitor their homes via their LG G5.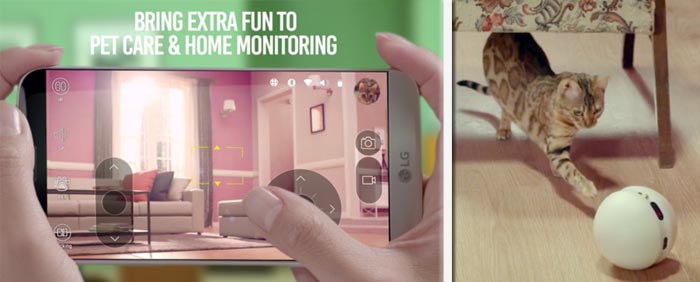 LG Smart Controller
This device allows you to control drones of certain makes and models. With this device you can check the drone video stream via your LG G5 and control the drone with the LG Smart Controller joystick.
LG audio headsets
LG also introduced a pair of audio headsets. The LG TONE Platinum is a Bluetooth headset that has earned the Harman Kardon Platinum grade for its superior sound quality. LG claims it is the world's first Bluetooth headset equipped with aptX HDcodec, delivering lossless 24-bit audio "for sound that is unrivalled in a wireless device".
Meanwhile the H3 by B&O PLAY is a set of high-end high-end earphones compatible with the LG Hi-Fi Plus with B&O PLAY, though it will work with any Android smartphone.
Tying up all the above devices as companions to the LG G5 is the LG Friends Manager hub application. This connects and interfaces with the above devices "with minimal fuss and effort". LG Friends Manager is designed to automatically detect nearby LG Friends and connect quickly and easily in a three step process - said to be eliminate pairing hassles.
Video features the G5 Friends devices from 2mins 16sec onwards.