Google has launched the first member of its Home family with a screen attached. It means that with the Google Assistant built-in, you can use your voice to get the best of Google - Search, YouTube, Google Photos, Calendar, Maps and more – on the built-in display.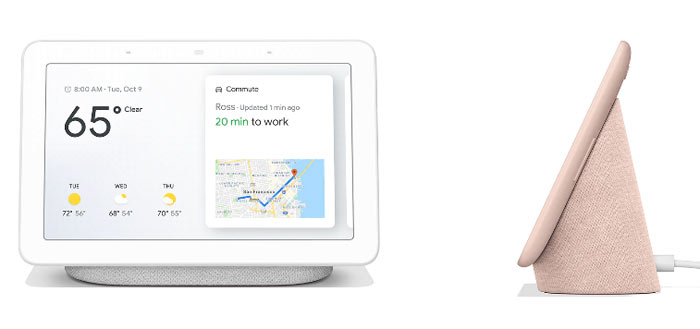 The Google Home Hub is based around a 7-inch touch screen and can do all the usual hub smart speaker type tasks as well as the new visually enhanced ones outlined above. The display is backed by a "crystal clear speaker" and the attractive design with fabric base and rounded corner display is available in Chalk, Charcoal, Aqua and Sand finishes.
A couple of days back we saw Facebook launch its Portal and Portal+ smart speakers with screens and these majored on their AI camera people tracking ability and video calling capability however Google says it has deliberately chosen not to install a camera on the Home Hub "so you feel comfortable placing it in the private spaces of your home, like the bedroom". Google has fitted an ambient light sensor so that the display is just right, whether it is night or day. It says the sensor "automatically detects and matches over 16 million combinations of light and colour, so your photos blend in with your home decor."
On the topic of audio the built-in speaker is said to be 'full range' and offers 80 dB SPL @ 1KHz, @ 1m. For voice commands the device has a 2 mic array.
The Google Home Hub connects to your home network and other devices by 802.11b/g/n/ac (2.4GHz/5GHz) Wi-Fi. It supports BT 5.0 too. As part of your home network it is expected that you will monitor and control things like the Nest range of smart home devices, thermostats, security cameras, and lighting products via Home Hub. A particular strength of the Google Home Hub is its YouTube handling, especially since Google has purposely hobbled the Amazon Echo Show's handing of this app.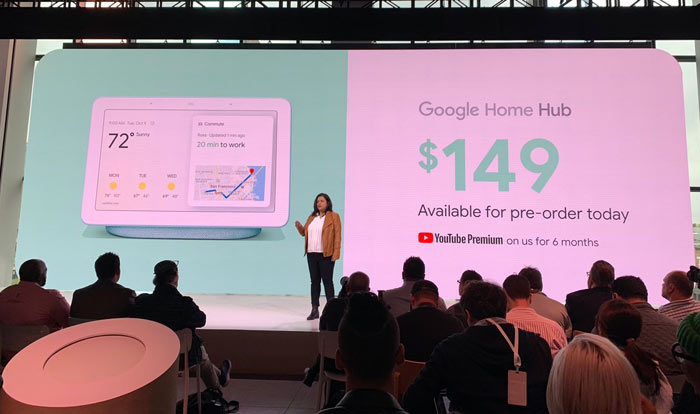 Google Home Hub costs $149/£139 and comes with 6 months of YouTube Premium. It is available to pre-order and will ship from 22nd October.
Updated Chromecast
The Chromecast HDMI TV streaming accessory device was first launched back in 2013. Yesterday Google launched an enhanced version with new colour choice (chalk/charcoal), and a faster processor. Specifically, Google says the new version delivers a 15 per cent improvement in performance which helps smooth streaming at 1080p 60 frames per second.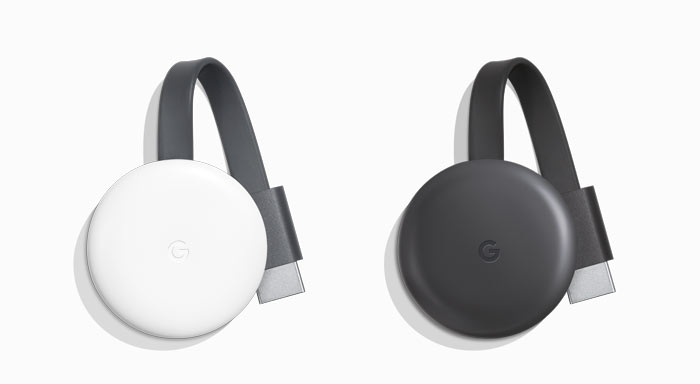 Despite the enhancements Chromecast is still $35/£30 and available now. Here in the UK it is often available in offers from third parties and there could be stock of the older model to clear at knock down prices if you are interested.