Guns and acrobatics replace swords and sorcery
What's it about?
Resonance of Fate is a JRPG where you control members of a private military contracting firm in a world where most of Earth has been rendered uninhabitable. The only remaining pockets of civilization surround the tower of Basel, an experimental air purifier with a mind of its own. The game carries a steampunk aesthetic, with the ordinary RPG trappings of swords and sorcery traded in for guns and acrobatic attacks.

Review
In a perfect world, Resonance of Fate wouldn't have launched around the same time as Final Fantasy XIII, which has pretty much overshadowed its European release. That's actually a big shame, because it does stand on its own merit as being an enjoyably different RPG experience that sets itself apart from the standard magic-based RPG games that usually spawn out of Japan.

Indeed those disappointed with Final Fantasy's linearity and typical RPG combat and fantasy world, will be treated to a game that sets itself apart from the trappings of magic and sorcery combat to deliver a refreshing and gritty alternative of machine guns and hand grenades. The constant grinding that you associate with RPGs is still a feature here, but you do so on a steam-punk style machine world full of polluted lands and fallen cities that have been beautifully designed and are a joy to explore.The enjoyably eccentric characters and storyline stand out as being unique, but you're never bogged down with reams of text or tons of cut-scenes -- this is all about the action.

RPG enthusiasts will be familiar with the deluge of interesting fetch quests, dungeon crawling and monster slaying, but it's the colourful combat system and the types of weapons that you get to fight with and customise extensively that sets it apart from other RPGs. The in-depth, challenging combat system of Resonance of Fate is a far cry from the accessible combat system that you'll find in Final Fantasy XIII, but it can be very rewarding providing your prepared to invest the time and listen to the many tutorials that are drip fed to you throughout the game.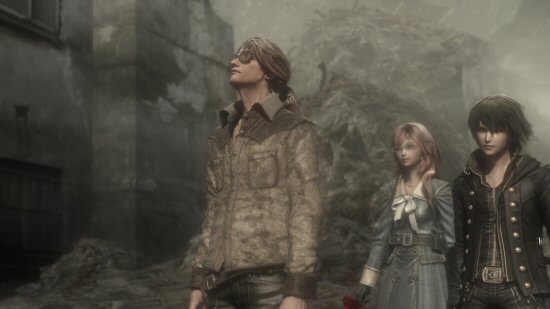 I think this may be a first for me, but I'm not entirely sure if I can explain how the battle system works in words well enough, because there are so many layers to it. It's so deep in fact that I think it's going to require an investment of time way beyond the norm to master - I've not even got close. Even at a basic level it's complicated. Complicated enough that you can only blag your way past enemies for a certain amount of time before you're outwitted and realise that you'll have to spend timing getting equated to it properly.

Continued overleaf...