Eight snow and ice-based sporting disciplines...
Version reviewed - PS3

What is Winter Sports The Great Tournament 2010?
Boasting an extended trick system, five game modes and four difficulty levels, Winter Sports The Great Tournament 2010 is the unofficial game of the 2010 Vancouver Olympics.

With career, cup and campaign modes, as well as a 4-player online and split-screen multiplayer component, Winter Sports 2010 offers a range of challenges as it simulates eight winter sport disciplines, including downhill skiing, biathlon, bob-sledding and figure skating.

The career mode boasts an RPG-style upgrade and EXP system giving you access to such items as a rumble pack that makes you immune to jostling in the likes of short track speed skating, or a magic glove which gives you the ability to navigate around tight corners at speed. In career mode the disciplines are bundled into five groups that ascend in difficulty levels from easy to extreme. As you attempt to rise from amateur status to world champion you gain medals along the way as you compete against four national teams in 16 competitions modelled on the real event.

The challenge mode offers 44 objectives designed to give you a respite from the serious action and include coin-collecting on the way down the piste, or avoiding skulls on the biathlon track. Completing these objectives will also help you on your way to unlocking some of the 48 PS3 trophies up for grabs.

The multiplayer component consists of an online and split-screen mode for up to four players as you compete in any of the eight disciplines for personal glory and position on the global rankings board. The option to bring your customised player online from the career mode online is an option, as you tackle other career players, or you can opt to jump into a game where everyone has the same skills.

Winter Sports The Great Tournament 2010 is up against Sega's official game of the 2010 Vancouver Olympics so, as you'd expect, it hasn't had the same level of publicity. That means it has to try and gain the upper-hand with gameplay alone in order to attract fans of the sports. Let's take a look to see if it's done that.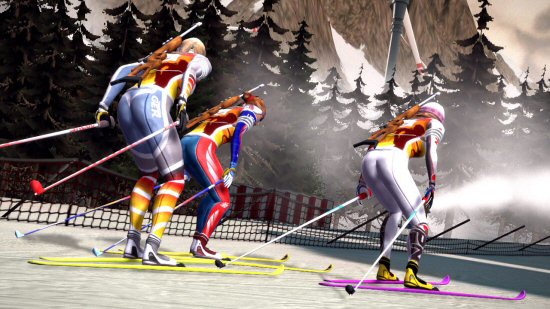 Gameplay Impressions overleaf...