Kicking off with another year of FIFA
Version reviewed: Xbox 360

What is FIFA 10?
Electronic Arts annual football title has been doing the rounds since 1993 and until recent years it was often critised for its style-over-substance approach to the beautiful game, with only small refinements being made to each iteration rather than a real evolution of the series. Great graphics,dazzling presentation and a fast-paced, arcade-style of football seemed much more important to the developer than the creation of a realistic and evolving football experience that really captured the essence of the sport.

That attitude has changed so much since FIFA's earlier days. The series has evolved so much in recent years that it's unrecognisable from the game it used to be. Arguably, it wasn't until 2008 that things changed dramatically, with a revamped game engine, sparkling next-gen graphics, and a wealth of exciting game modes that lead to it being awarded with high accolades from the world's gaming press. In 2009, EA pushed the series even further, blurring the boundaries between its game and the real-sport, by introducing 10 vs. 10 online play; the Adidas Live Season, where you can download stats that correspond with the performances of real players on the pitch; and further refinements on the pitch.

In our opinion, FIFA 09 was the greatest football game of all time. We're been playing it religiously for the best part of a year and even now we're seeing goals and moves that we haven't seen before. FIFA 09 is still as exciting a football game to play now as when it first was released, so we've been waiting with anticipation to find out exactly how EA can possibly improve on an already brilliant game of football.

Key Features in 2010
On the pitch - The first-ever true 360 dribbling system in a football game is just one of the many enhancements. There are also tons of new animations, enhanced A.I., modifications to ball physics to provide a more accurate shooting mechanic, and increased.physical interaction between players.

Game modes - All of the game modes from last year return, including Kick-Off, Manager Mode, Tournament, Lounge mode and Be A Pro, plus the new Virtual Pro game mode and an expansive online component.

Manager Mode gets a face-lift - More than 50 major improvements, including new match realism, realistic player transfers based on multiple decision points, and true-to-life player growth curves.

Virtual Pro - Create a footballer and take him through the four Be-a-Pro seasons, include him in the Manager Mode career, use him in Kick-Off, Tournament, and Lounge mode, as well as using him in the Arena. Game-face has also been added to FIFA 10 as, where gamers can create their Game Face on the web then download them into the game. Spooky!

My Live Season premium service - Features weekly updates of player form, transfers, injuries, suspensions, fixtures, results and league standings, creating a mode that mirrors the real world.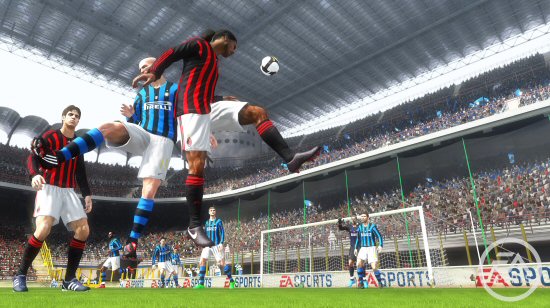 Gameplay Impressions overleaf...