Throttle up your ATV
Following in the footsteps of the likes of the MX Unleashed and the ATV Offroad series, PURE is Black Rock Studio's aesthetically lavish racer and the latest entry in the off-road racing genre.

The Disney-owned studio, formerly known as Climax Racing, has good pedigree in the racing genre, having worked on a number of the Moto GP games, The Italian Job and indeed the aforementioned ATV Offroad franchise.

Building on its wealth of experience, Black Rock Studio has succeeded in creating an impeccable all-round racing experience, one that not only looks great, but has instant pick-up-and-play appeal.

With only four game modes, including World Tour, Time Trials and a thin-on-the-ground online component (we'll come back to that shortly), PURE could have offered more for its £39.99 price tag, but the single player career mode still offers enough variety to keep you thoroughly entertained.

World Tour, the game's career progression mode, comprises of a series of stages across seven locations with 36 different tracks. Each stage is made up of three different events: Race, Sprint and Freestyle.

With each stage consisting of three of more of these types of events, you're awarded points based on your final positioning in each race. Providing you meet the set point criteria in each stage you'll unlock the next stage and progress your way through your career from 'D' class ATV's to the mighty 'A' class four-wheelers.

Although there's nothing outstanding about the way that the career mode is structured and the way that you routinely progress from one stage to the next, it's a formula that has worked well in past racing games and feels instantly familiar. With a finely balanced learning curve and a steady climb required in skill as you progress, PURE is accessible as well as challenging.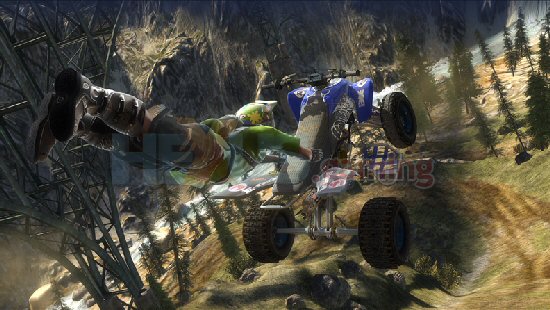 Click for larger image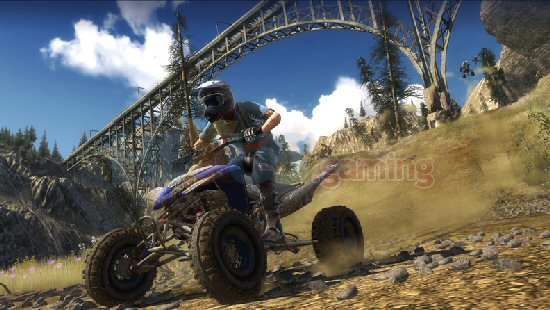 Click for larger image
Continued overleaf