Make sweet sweet music together
The latest innovative project by Nintendo to attempt to capture our imaginations is a peculiar one indeed. When Wii Music was first announced at E3 earlier this year, with Nintendo's elite taking to the stage for a hilarious rendition of the Super Mario theme tune, we learnt that we'd be able to simulate up to 60 different instruments, take part in jamming sessions with friends and family and gain access to a 50 strong track list to play along to. At that point, we were quite excited to see how it would all pan out and whether Wii Music would expand our musical knowledge and get us all up and dancing. We certainly assumed back then that Wii Music would take the form a rhythm game, along the same lines as the popular Guitar Hero franchise.

We couldn't have been more wrong. Wii Music isn't a game as such. You don't follow notes on screen and press corresponding buttons on your Wii Remote, nor do you get penalised or rewarded at any point by being scored on your efforts. Whether you can accurately play along to the likes of 'DayDream Believer' or "The Loco-Motion" actually makes no odds whatsoever. Wii Music is mainly about improvisation and noise-making. You can, if you wish, try and fit in with the rhythmic beat of what can only be described as a bizarre track list, but it really makes no odds; you don't play the notes, you merely play the beat and the tempo of the song. Without any reward for your efforts or no real goals to aim for, it isn't a title that will appeal to anyone who was hoping to be musically challenged.

That's not to say that some people, most likely very young children, won't find it entertaining. Whilst we only enjoyed ourselves for all of, er, 20 minutes, we can see how energetic youngster may get some gratification from jiggling their arms up and down in time to the likes of Richard Wagner's "Bridal Chorus" or "Oh, My Darling Clementine" or coming together as a family to shake their maracas to the Wham classic,"Wake Me Up Before You Go-Go."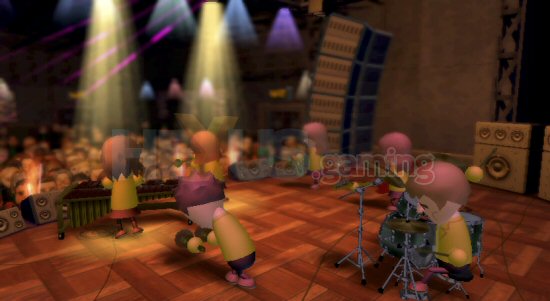 Continued overleaf...