Big characters and big bangs
Drake rides again
Few PlayStation 3-exclusive franchises have managed to create such a tidal wave of excitement as Naughty Dog's Uncharted series. The combination of lush graphics, big-budget set-pieces and intuitive platform-hopping gameplay have delighted gamers since its inception in 2007 and have turned protagonist and ladies' man, Nathan "Nate" Drake into an iconic hero that men want to be like and women want to marry. (steady on - Ed)

While the first game was universally praised for its sparkling production quality, the series really took off with Uncharted 2: Among Thieves, which was purchased by five million gamers keen to see how Naughty Dog had revamped and optimised the original game engine to use what it claimed was 'approximately 90 per cent of the PS3's processing power.' Living up to all expectations, it received high praise for its narrative, graphics and cinematic quality, picking up numerous 'game of the year' awards in the process.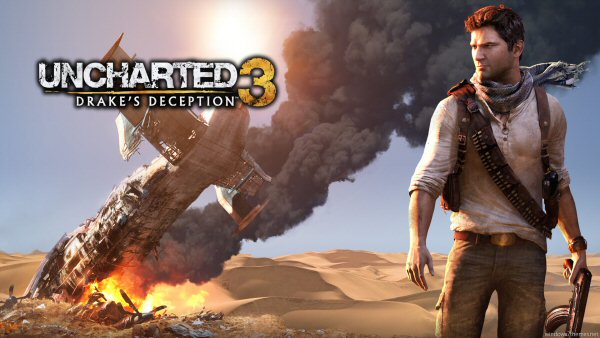 Ask almost any PS3 owner which game they're looking forward to in 2011 and the majority will reply - with a twinkle of excitement in their eyes - Uncharted 3: Drake's Deception. Though we also fall firmly into that category of doe-eyed Uncharted lovers, we did doubt that the series could evolve from its predecessor in terms of sheer spectacle. As it turns out, we needn't have been concerned. If Uncharted 2 used 90 per cent of the processing power of the PS3, then Uncharted 3 must be pushing it right to its limit because, simply speaking, this is the best-looking game to have ever graced Sony's console.
Ramping it up to 11

Uncharted 3 is an Indiana Jones-inspired action-adventure designed specifically to take players on a cinematic, interactive journey by stimulating the senses with a clever blend of storytelling, remarkable visuals and over-the-top set pieces. If you're one of those people who have followed Nate's adventures over the years - and enjoyed them - then you're certainly not going to be disappointed: Uncharted 3 delivers much more of the same, only it steps things up a notch with an even bigger production that makes the Tomb Raider games seem as old as the ancient relics that Nate dreams of finding.

The newest iteration starts off how it means to go on by superbly setting the scene for the epic treasure-hunting adventure, showing you how Nate first met his father figure, Victor "Sully" Sullivan, all those years ago. With such a strong cast of characters, Naughty Dog has continued the good work from previous games by pairing Nate and Sully and building their close relationship even further, humanising them to a certain extent so that you care and understand their bond. This sets things up nicely for the pair to embark on a journey around the world in search of hidden treasure, on a voyage that you can immediately relate to and actually imagine taking place.