Four playable characters with distinct fighting styles.
From its mental karaoke mini-game to the cute, young-looking ladies in school uniform, Yakuza 4 couldn't be more Japanese if it tried. The bright, neon-lit streets of Kamurochô are closely designed on Tokyo's red-light district and are full of quirky characters who speak in their native language. This is a location full of Japanese eccentricities and charm, but the colourful backdrop and the Sega-blue skies largely serve to lure you into a false sense of security. Lurking behind its colourful exterior, the presence of the infamous Yakuza gangs ensures that there's a real sense of danger on the streets, while the seedy establishments serve as a reminder that Kamurochô is also a place to indulge in your fantasies. This is a place where noodle bars and movie theatres sit side by side next to the city's more seedy sights, such as massage parlours, gambling arenas and hostess bars. Nothing much has changed with Yakuza over the years; it's still a sprawling, action adventure full of bizarre mini-games, violent combat and cinematic quick time events (QTEs.) But, it's this mix of brawler, general oddness and the over-riding Japanese theme that makes it all the more appealing.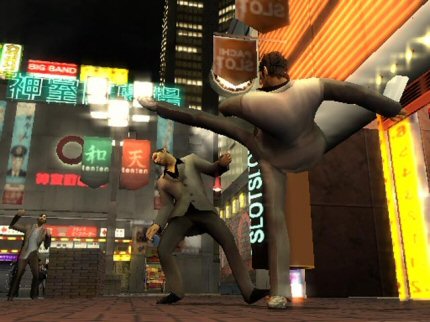 Just like sushi, Yakuza 4 is an acquired taste; a game that takes you in all kinds of crazy directions, combining exploration, combat and really odd mini-games - the same formula that Sega established when the series was first released in Japan in 2005. Having played every Yakuza game so far, the setting – and even the graphics – aren't a million miles from the recreation of Tokyo's red-light district right back at the beginning. It's still an appealing place to explore, but it doesn't come even close to pushing the power of the PlayStation 3; it actually all feels quite dated. Nonetheless, the same neighbourhood that appeared in the last game has been opened up somewhat with some brand new rooftop areas and an underground location where you can access the shopping arcades and city's parking lots. Overall, there's more to explore than ever, even if it does feel a little too over familiar.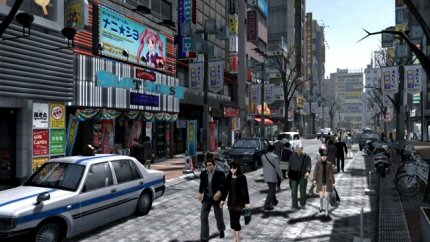 The gameplay still offers something quite unique though. Even if you've played previous games, nothing can quite prepare you for what you can get up to in the streets of Kamurochô. Largely, though Yakuza 4 is a brawler and you spend a lot of your time fighting punks and dishing out punishment in some boss battles, you'll also find yourself scouting for girls at the hostess bar, playing darts, getting a massage, or fishing for eel and prawn in the middle of night. Yakuza 4 is totally bizarre, and although its huge selection of side-quests and mini-games aren't going to appeal to all, you will most definitely find something that you enjoy doing away from the combat. Lengthy subtitled cut-scenes kick in frequently and can be quite draining, but if you've got the patience, there's also an entertaining story of hope, revenge and fierce loyalty to enjoy. Futhermore, there's the opportunity to experience it from the viewpoint of four different characters - a first for the series.

Continued overleaf...