Evolution of the Kart racing genre
What is it about?
ModNation Racers takes the typical, chaotic Kart racing formula and adds a host of customisable, social and multiplayer features.

Gameplay typically involves speeding around a variety of obstacle-laden tracks, drifting around corners and boosting down straights in an attempt to reach the finishing line first. Along the way you pick up power-ups, such as missiles and lightening attacks, that give you an advantage during each race as you launch them at opponents to hamper their progression.

Career mode starts you off as a rookie and as you win races you unlock rewards and gain access to more challenging tracks. There's also a variety of challenges to tackle as you progress with further rewards to gain, such as track parts that can be then used in the editing suite. Customisation options are extremely in-depth allowing you to pimp your character and kart, as well create your own tracks from scratch and then share them with the online community.

ModNation Racers claims to be a true evolution of a franchise that reached its peak with the brilliant Super Mario Kart. Has developer, United Front Games, cooked up a similar magical formula to Nintendo's masterpiece, and will we still be talking about and playing ModNation Racers in years to come? It's a big ask for the developer's first attempt at a Kart racer, but let's take a look.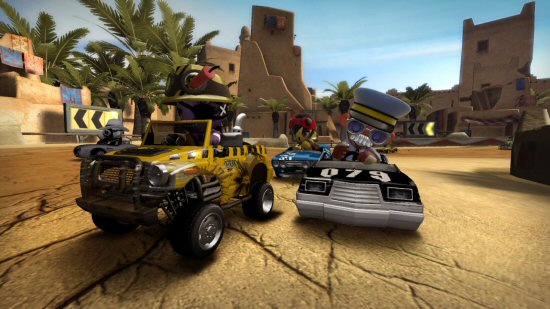 Continued overleaf...