Increases the content of your current game with 4 new tracks, 13 new ship models and 3 new game modes
What's it about?
WipEout HD Fury is an expansion pack for WipEout HD, Sony Liverpool's blisteringly fast-paced anti-gravift craft racer in which you use a mixture of speed and weaponry to compete against other racers across some funky, futuristic-looking tracks. Available exclusively as a downloadable title from the PlayStation Store, HD Fury offers a wealth of new content, which is reflected in its lofty £7.99 price tag and 700MB file size.

'Fury' is an appropriate word to use in the expansion's title. The menu interface has had a makeover that reflects the game's title, with the clean white and blue menu of WipEout HD making way for a fierce looking red design that gives the expansion a unique look. New audio tracks have also been added which incorporate the 'Fury' theme well by throwing into to the mix some bouncing techno beats that replace the likes of Kratwerk's hypnotic ambient sounds from Wipeout HD.

HD Fury boasts four new tracks, all of which are playable in reverse, and 13 new ship models, alongside online play and 13 new trophies to unlock. The biggest entry however is the three new game modes, including Eliminator, Zone Battle, and Detonator, plus an 80 event Fury campaign mode.

The Fury campaign offers the bulk of the new content, incorporating all of the new game modes. In the weapon-enabled Eliminator mode, the focus is heavily placed on destruction as you zip around the tracks until a player reaches a set score. Zone Battle makes use of boosting pads and as you attempt to be the first player to reach set zones. And finally, Detonator plays like an on-rails shooter where you need to score points by destroying the mines that have been strewn along the track, while attempting to take out the bomb on each stage to earn additional points.

Just like the original WipEout HD, the new content in HD Fury is displayed in 1080p resolution and runs at a silky smooth 60fps.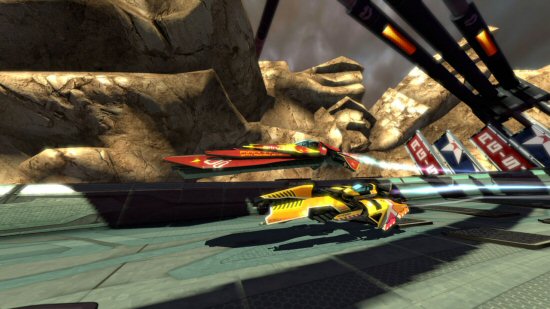 Gameplay impressions overleaf...