Gamer Customisation
As with most current-generation gaming mice, EVGA has opted for an ultra-precise Avago A9800 laser sensor. Tracking at up to 8,200 DPI, the sensor is one of the best laser solutions to date and is an obvious fit for a premium mouse such as this. Though, once again, personal preference will matter - this may be a very good laser, but that won't mean a lot to any gamer who prefers an optical solution. Horses for courses.
Looking beyond the sensor, EVGA employs long-life Omron switches and packs in nine programmable buttons. These are comprised of the main left- and right- mouse buttons, a clickable scrollwheel, a pair of on-the-fly DPI adjustment buttons and a red pair of buttons either side of the device.
All nine buttons feel well built - you get the feeling they'll stand the test of time - but in our experience only seven are truly comfortable to use.
The up-and-down DPI toggle buttons are perfectly placed for quick adjustment - these are joined by a series of four status LEDs - and, depending on which hand you use, the two side buttons nearest your thumb are very easy to locate.
It's the pairing on the opposite side that poses more of a problem, as neither feels natural to press with the ring or little finger. Using these two buttons generally involves a bit of hand adjustment, which isn't ideal when gaming.
EVGA's scrollwheel lacks support for horizontal scrolling, but vertical movement is backed-up by good feedback from clearly defined notches. The notches can be off-putting during everyday use - scrolling through a webpage, for example - but they're great for switching quickly between weapons. You're unlikely to ever scroll too far.
The Torq X10 has most of the essentials covered, but the real good news is for gamers who like a bit of customisation. As part of the bundle, EVGA includes replacement feet, a Torx screwdriver for height adjustment and three pairs of 2g, 4g and 6g weights.
The Torx screwdriver is a standard size - so you don't have to worry too much about losing it - and it attaches neatly to the back of the mouse. Give it a few twists and the palm rest and main buttons are raised incrementally, allowing the height of the device to range between 31.8mm and 38.1mm. The increase doesn't look like much, but in use we have come to appreciate the extra height - the mouse seems to sit more comfortably beneath the palm when made taller.
And if you like your mice to be of a very specific weight, you're in luck - sort of. EVGA's six provided weights suggest that there's plenty of scope for precise adjustment, but it turns out only two can be used at any one time. Pulling off the mouse buttons - which, we should add, takes some care and patience - reveals a pull-out rubber tray capable of stowing two centrally-positioned weights. Installing the two 6g add-ons takes total weight up to a maximum of 134g.
Software Configuration
As is the case with most modern gaming mice, the Torq X10 can be used as a plug-and-play solution, but to make the most of the available feature set, you'll need to download the companion software package.
EVGA calls it Unleash, and it's a lightweight utility that's worth having. Split into five main sections, the software allows more granular control of all the Torq X10's available features. At the top of the software, a good-sized portion of the window is dedicated to DPI and Sensitivity adjustment, with DPI ranging from a minimum of 200 to a maximum of 8,200.
The range is excellent, but unfortunately the Torq X10's on-the-fly DPI adjustment buttons don't have upper or lower limits. If you're at the highest setting and you press DPI up, you'll cycle to the lowest preset, which we feel isn't ideal behaviour.
Remapping the nine programmable buttons is straightforward enough, and we like the fact that a simple button is available to switch between left- and right-handed use. Making use of the Torq X10's onboard memory, there are five available profiles but what's interesting is that the profile-switching button is hidden on the underside of the mouse. The position of this button isn't ideal, but users can remap the switching function to another button or select different profiles through the software.
Elsewhere, EVGA includes a comprehensive macro-record facility that's easy to use, and of less importance is an option to change the colour of the onboard LEDs. The mouse has three backlit sections - the scrollwheel, DPI indicators and EVGA logo on the palm rest - but only two can be altered as the DPI indicators are permanently red. A strange oversight, as we'd ideally like to have all the LEDs illuminated in the same colour.
Summary
Based on what we've seen of the Torq X10, EVGA is a welcome addition to the burgeoning line of gaming-peripheral manufacturers. Attempting to cover as many bases as possible, the company's first mouse adopts an ambidextrous design that's relatively sleek, well built and equipped with plenty of under-the-hood potential.
A headlining 8,200 DPI sensor is par for the course on today's premium mice, but EVGA brings more to the table with a solid metal base, built-in height adjustment, customisable weight and a companion software utility that's already looking polished and comprehensive.
There is room for improvement - the far-side buttons in particular feel tricky to use - but that aside, the Torq X10 represents a solid first effort. If there's a snag, it's that size and shape tends to be a matter of personal preference. In the diverse PC gaming market, a single form factor rarely fits all and EVGA's one-and-only-mouse is recommended to large-handed users with a preference for ambidextrous designs.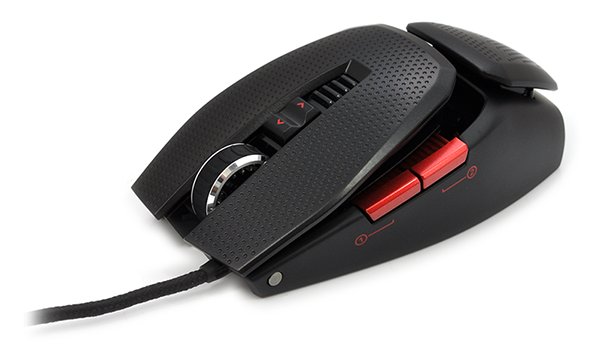 The Good
Rigid metal core
Suits lefties and righties
Precise 8,200 DPI sensor
Height and weight adjustment
Comfortable for claw- or palm-grip use
Dynamic DPI switching with LED status
Well-featured software utility
The Bad
Far-side buttons are tricky to use
May be a bit big for gamers with small hands
Only some of the LEDs change colour
HEXUS.awards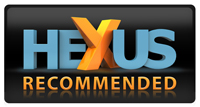 EVGA Torq X10
HEXUS.where2buy
The EVGA Torq X10 Gaming Mouse is available to purchase from Scan Computers*.
HEXUS.right2reply
At HEXUS, we invite the companies whose products we test to comment on our articles. If any company representatives for the products reviewed choose to respond, we'll publish their commentary here verbatim.