snootyjim takes time out to tell us his thoughts on the epic RPG...
The following review is from snootyjim, a regular contributor to our community here at HEXUS.gaming. His opinion is his own and not necessarily the views of the HEXUS team, although we did love Mass Effect 2 as well!

Version reviewed - PC
Reviewer - snootyjim

With the SSV Normandy destroyed in the introduction, Mass Effect 2 sees Commander Shepard rebuilt, realigned, and reassigned to yet again save humanity from destruction. And in much the same way, Mass Effect 2 keeps most of the character from its predecessor, but at the same time undergoes a lot of re-engineering. BioWare certainly listened to the complaints – no more barren planets to explore, no more ice-cream van Makos to manoeuvre, no more weapon hoarding… but how much of a difference did their changes make?

The style will be fairly familiar to those who've played Mass Effect, with little of the core gameplay changed. It does move farther from the RPG world, cutting the number of weapons and armour types, and thus eliminating the inventory system – but since the RPG elements of Mass Effect always played second fiddle to the FPS aspect, this doesn't feel like a loss. Instead of spending half of your time checking whether Team Member 4 has Shotgun v7 or v6, you can instead concentrate on the game itself, and cut out most of the inane micro-management.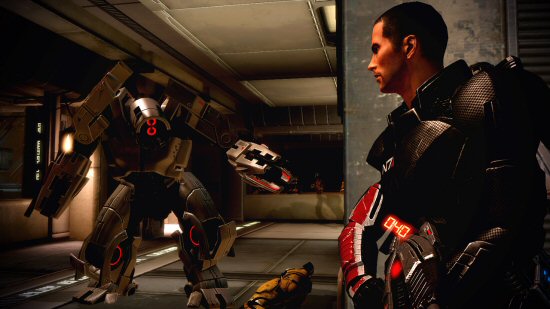 With this in mind though, you can't help but scratch your head at the planet exploration feature. The once vast planets have now been reduced to galactic supermarkets – you pop into a system, have a look round, decide which planets have the minerals you need, and then pluck them out with a few ship-fired probes. The sparsely scattered mission locations are similarly limited, such as the intriguing commercial haven of Illium, population 85,000,000, which feels similar in size to Debenhams. Consequently, Mass Effect 2 loses the sense of its galactic setting and starts to come across more like a series of fish tanks, with the odd interesting item here and there between the expanse of blandness and solid walls, and absolutely nothing to link it all together.

Crucially though, the combat and tactics of the game have both improved. Combat is more testing and involved, with the tactics of your team's abilities becoming crucial in winning each battle – the diverse range of enemies mean that your team's specialists become essential as time goes on. Meanwhile, each member of the team has their own back-story, and personal missions stemming from them that they need to follow up, giving you much closer ties with your crew and a real sense of camaraderie. In addition to that, the new quick-time events, while frustrating in their ability to catch you completely off-guard munching during a cutscene, give you some utterly brilliant opportunities to cut off an enemy mid-conversation and kill half of his troops before they have time to react.

Ultimately, Mass Effect hasn't renovated the series. It's still the same old "Mother Teresa answer" vs. "Hitler answer" routine, and it still isn't an RPG. And it hasn't eradicated all of its predecessor's faults. But it has certainly built a truly versatile story, developing from your choices in the first game, and assembling a team of captivating people whose personalities and livelihoods effortlessly intertwine with your own, leading to some gut-wrenching decisions along the way. All-in-all, a genuinely immersing experience that you won't get anywhere else.

Room for improvement, but nonetheless a fantastic game

Score: 9.5

If you'd like to contribute to HEXUS.gaming and have a short review of your own published then please visit this forum. Read the rules, check to see whether the game you want to review is included in the list and then simply write it up on the forums. You'll have to be a registered user to join in, but it only takes a minute to join.

We're still accepting reviews for Mass Effect 2, which will be added to this article and will generate an average review score for the game.