During the early 1990s World Superbike racing was generally regarded by the public in general as a poor cousin to the more glamorous MotoGP championship.Since the mid-late 1990s however, World Superbike racing's profile has improved considerably, withstanding considerable changes to the format, and challenging the long-time domination of the event by Ducati, ridden by the most accomplished World Superbike racer Carl Fogarty, who won four championships in the 1990s.

The Superbike franchise is making a big comeback in 2007, in its 20th anniversary year, with the PS2 and PSP versions of SBK-07: Superbike World Championship, the official game of the sport, due out in May and the Xbox 360 and PC versions due out in the fourth quarter of 2007. But, will SBK-07 have the power to knock the established Moto GP franchise of the top spot and become the new daddy of motorbike racers?







SBK-07 does give you plenty to choose from before you set out onto the race track. In addition to a standard championship mode in which you participate in qualifying rounds to determine your position on track, there are also race weekends, time attacks, multi-player and a series of challenges ranging from acceleration objectives, in which you need to pass through check points whilst exceeding the target speed, to skid, time and chase challenges, where you start at the back of the pack and need to make your way up the field into pole position.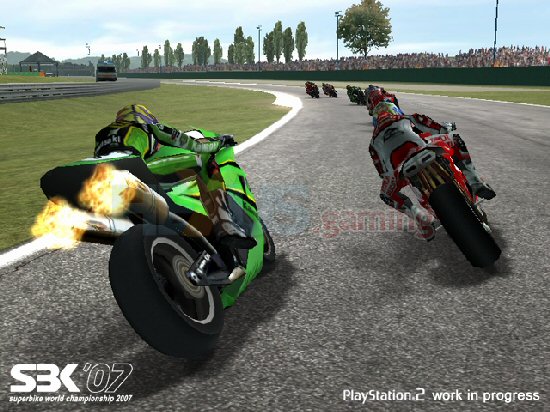 Being the official game of the championship, SBK-07 holds the license for the championship, meaning that the bikes, the riders, rider's gear, the teams and the circuits, from Monza to Silverstone, are all authentic. So, if you want to feel what it's like to jump into the leathers of Troy Bayliss, last year's champion, and ride on his Ducati 999 F07 around the world famous Magny-Cours in France then you can. Alternatively, the options are there to ride on one of the Suzuki, Honda, Yamaha, Kawasaki or Petronas bikes and test out their power on all of the official tracks.