Razer unleashed its first mechanical gaming keyboard
Positioning itself at the top end of Razer's long line of quality gaming products, the BlackWidow Ultimate delivers an old-school feel with its "clicky" mechanical keyboard, but also offers many of the features you'd expect from a modern day keyboard, which has been specfically designed to make your gaming experience comfortable and your performance efficient. Costing £129.99 (£109 on Amazon,) the BlackWidow Ultimate isn't likely to be an impulse buy for many gamers, but it is largely aimed at those who take their gaming seriously and it's definitely been built to withstand some intense sessions.

Out of the box, the first thing that immediately strikes you is the weight of the keyboard, which at 1.5 kg is heavier than most. It's quite an imposing, yet striking, keyboard decked out in glossy black with the only splash of colour provided by the white lettering and function key symbols. Razer's triple-headed snake logo sits at the bottom of the keyboard in a central position, and the sides of the keyboard are a matt black colour. Out of the back of the keyboard runs a thick braided gold-plated cable with two audio connectors and two usb connections, one for the keyboard and the other for the pass-through USB on the board.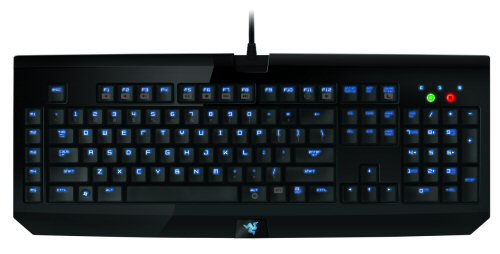 Click for larger image



The keyboard practically sticks to your desk because it's so solid; it feels reassuringly well built. Despite the standard shape and pure black colouring , it's a classy looking keyboard with a very clean styling. Similar to a PlayStation 3 or a black smartphone, the keyboard does pick up dust and fingerprints regularly, but keep it in good condition and that black glossy aesthetic makes it shine and look like the luxury keyboard that its price-tag suggests.

Continued overleaf...