A powerful keyboard for serious gamers?
Reviewer – Matty Hodgson

With the gaming keyboard market absolutely saturated with a huge range of very good keyboards, just how good is Microsoft's latest entry?

Packaging:
The box that the Sidewinder arrived in is very rugged and well designed. On the front there is a red background that features about 40 silhouettes of different characters from a range of games, which accentuates the cartoon-style picture of the keyboard effectively. The packaging for this keyboard actually fails to include much information on the product; it seems to take a backseat due to the overall design of the box, although there is a picture of the X4 on the back of the box, along with a list of features.

Inside the box there is actually very little: you get the keyboard and a small manual and installation disc, although I would suggest you download the latest driver instead of using the disc.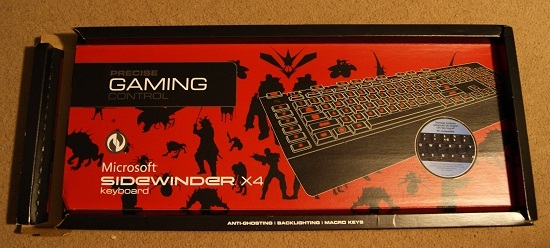 The Keyboard:
First impressions of this keyboard are very positive; it looks very nice when you take it out of its box, with my attention highlighted towards its nice glossy finish and fairly large size. The keyboard is quite heavily featured too and includes several media buttons, adjustable red backlit keys, 6 macro keys, a macro record button and a calculator button.

Typing on this keyboard feels very natural and the keys are spaced apart perfectly. The action as you press down feels really nice and the clicking sound is at a nice volume. The red backlighting is also very useful for when typing late into the night.

The 6 macro keys down the left hand side are also very useful. With the ability to assign 3 different roles to each key, allowing up to 18 different functions, the macro keys switch roles using a button in the top left of the keyboard which changes the macro profile; this profile is indicated by 3 red lights. The keys also take up a new role for each game that you play, allowing further customisation. The driver also has an extensive list of default functions for the keys.

The media keys are a bit of a problem with this keyboard, and it's one of the few places I can find a fault. Firstly there is the problem with the play/pause button and the skip forwards/backwards buttons. They will only become active with other applications when Windows Media Player is open, and there is no option in the drivers to set a different media application as default. The other problem I found was the grouping of the media buttons; they grouped the mute key with the play, forward and backwards keys which seemed a little odd to me.