Football management on the move
It's particularly surprising that in a genre that has proven itself to be extremely addictive amongst footy nuts world-wide, the Nintendo DS has been without a football management simulation game since its inception over three years ago.

Finally, and better late than never, that gaping hole in the market will be filled on November 28th by Pinnacle Software's Football Director DS, which has been built from the ground-up for the hand-held and designed by industry veteran Robert Womack, whose list of impressive credits include Championship Manager, FA Premier League Manager and Football World Manager Championship.

If you've played any of those management games you'll be familiar with how Football Director DS works. You start off by choosing your favourite football team from the officially licensed English leagues and then will spend your time methodically flicking through spreadsheets full of data, allocating training schedules, scouring the transfer market for that elusive bargain basement striker, dealing with finances off the pitch before finally getting down to the nitty-gritty and commanding your team on it in the hope of achieving National and European glory

In between there's all sorts of matters to get stuck into, including negotiating player contracts, selecting match tactics and strategies, building up your youth team and hiring and firing backroom staff as you aim to make your team successful both on and off the pitch.

Football Director DS is essentially a watered-down version of the likes of Championship Manager with less stats to get your head around, a smaller database, no animations on match day and fewer options overall. Nevertheless, it still has plenty of depth to it, boasting a comprehensive database of around 3,800 real players complete with full history and skills and a stat-crunching game engine that takes into account your tactical choices and team selection on match day.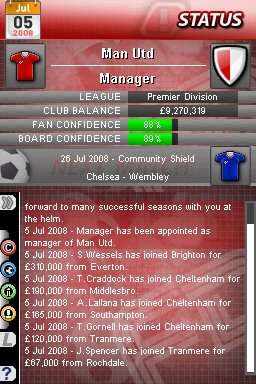 Continued overleaf...