Grid hits Nintendo DS
With the Colin McRae and TOCA franchises, Codemasters has proven that it has what it takes when it comes to creating a distinguished and entertaining racing title.

The latest effort to be published by Codemasters is developed by Firebrand studios; the team behind last year's DS title Race Driver: Create and Race. The DS installment of Race Driver: Grid on DS is based on the PC, Xbox 360 and PS3 version that was released earlier this year and lauded for its fine list of features, graphical excellence and stylish approach to the genre.

Firebrand has taken the solid foundations laid by its Create and Race game and built on them , whilst taking some of the features from Grid and incorporating them superbly into the DS version. The result is a brilliant racing game that manages to provide all the thrills, spills and features that we have come to expect from any AAA racing title.

Of course, the DS version can't match the graphics and audio quality of the console and PC title, but it still does a decent job at recreating the likes of Donnington and the streets of Milan, where you can spot famous landmarks such as the La Scala Opera House. From the traditional camera angle, that sits just behind and above the car, some of the background scenery can look a little blocky and pixelated, but switch to the in-car view and the graphics seem to be sharper, the lines of the corners more defined and as a result the visual experience, as well as the feeling of speed, is enhanced.

Grid's strongest selling point is the variety it offers in its game modes and features. Aside from taking part in time-trials and competitions, there's a bundle of impressive customisation options allowing you to pimp your ride and create new tracks. There's also tons of different events, including speed trials, braking tests, chase events, drift battles and a brilliant online multiplayer mode for up to 4 players.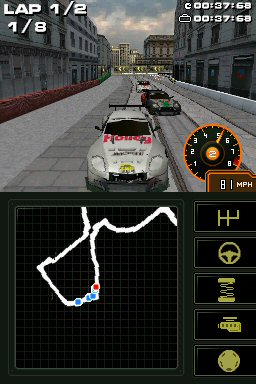 Grid also offers a welcome break in the driving thanks to the Blueprint challenge, which gives you access to the accomplished track editor, where you're design skills are tested to the max. Overall, Grid offers a truly polished and complete racing experience.

Continued overleaf