Retro cartoon racing!
Wacky Races: Crash & Dash isn't your typical racer. Inspired by the vintage Hanna-Barbera cartoon, which is celebrating its 40th anniversary this year, the game features all of the mad-cap racers from the series, including the hirsute stone-age Slag Brothers, the muscle-bound lumberjack Rufus Ruffcut and of course the villainous Dick Dastardly and his sniggering side-kick Muttley.

Like the cartoon, Wacky Races: Crash & Dash simply involves 11 colourful characters taking part in a series of races where they use the unique abilities of their vehicles to try and gain an advantage over their opponents.

Aside from the main 'Wacky Rally' mode, where you take part in various stages each consisting of three races, the options are limited. You can jump straight into a single race without having to unlock any of the characters - a nice change from other racing games - or you can simply try out some of the awful mini-games, the likes of which you'll encounter anyway in the main game mode. The omission of a multiplayer mode is the first indication that Wacky Races: Crash & Dash is a poor substitute for far better racing games that are out there.

You could argue that Wacky Racers is supposed to be different than standard racers, after all these racers aren't a normal bunch of characters with 'normal' vehicles, but different isn't always good and although there are plenty of nostalgic moments that will appeal to fans of the series rather than racing enthusiasts, it's core gameplay is far too simple to keep you interested.

The original theme tune plays prior to each race and it's nice to be able to jump into any of the famous vehicles from the show, including Penelope Pitstop's Compact Pussycat and the The Ant Hill Mob's Bulletproof Bomb, without having to unlock them.

There's also plenty of high-jinx from Dick Dastardly who darts off ahead of the pack, setting up devious traps to prevent his pursuers from winning each race. The race commentary also mimics that in the series and provides some entertainment as you dash and crash your way cross-country jostling for position with the other racers,

The nostalgic trip down memory lane is fun for a short while, but in terms of gameplay the Wacky Races license has been used and abused badly.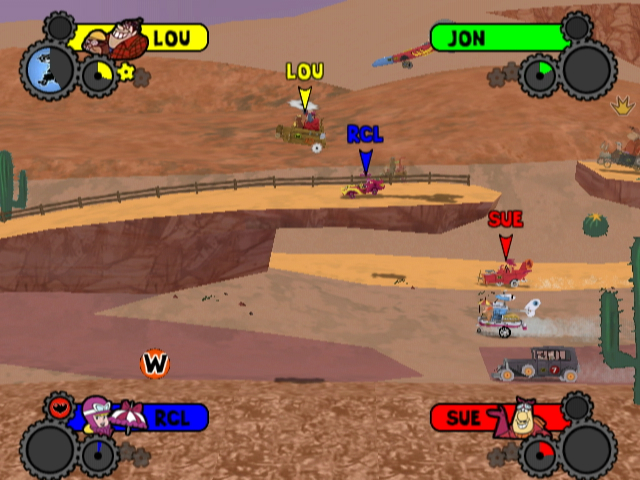 Continued Overleaf