A mental challenge for detective wannabees
Apollo Justice: Ace Attorney is the fourth game to be released in the popular courtroom-based series. In a bid to freshen up the franchise there's a whole new range of colourful characters to interact with and four original and intriguing court-cases to get your brain working over-time.

The latest of Capcoms' titles is set seven years after Phoenix Wright: Ace Attorney Trials and Tribulations and the hero of that game (and all other Ace Attorney titles besides), Phoenix Wright, finds himself on the opposite side of the courtroom as new boy, 22 year-old rookie lawyer Apollo Justice steps into his shoes to take centre stage.

By collecting evidence and weeding through inconsistent testimonies, the aim of the game is to defend your client at all costs and overcome corrupt agendas to ensure that true justice prevails.

Apollo Justice: Ace Attorney is the first game in the series that has been built from the ground up specifically for the DS. Therefore, the developer has paid special attention to the visual impact of the courtroom scenes and the way in which you use the DS's dual-screens during the game. On the upper of the screens each case is played out in a theatrical and comical anime style, whilst reams of text-based dialogue unravel each case slowly.

The lower screen is used to good effect for examining court records and any evidence that comes into your possession, whilst the DS microphone can be used to shout your objections at any witness that dares to try and deceive you.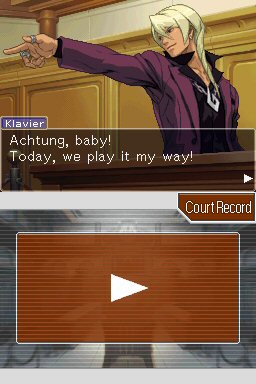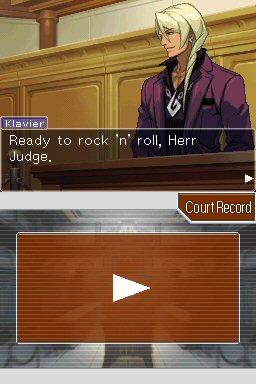 There may be a new protagonist at the helm, but the game-play and format remains predominately the same as previous games in the series. Essentially, it's a dialogue-driven, interactive visual novel in which you spend a lot of time reading through text and examining court records in order to find the smallest shred of an inconsistency in each of the witnesses' testimonies.

The game begins with an intense trial where you, Apollo Justice, take to the court stand to defend a man who is accused of bludgeoning a man to death following a late night poker game. It's your task to sit back and listen to the testimonies presented by the suspects and witnesses, examine the court records - which are added to throughout the case and can be accessed at any time during the trial– and finally present the redeeming piece of evidence that you hope will solve the case.