Two icons fighting for pride
When it was first announced that the iconic plumber Mario and Sega's purple hedgehog Sonic were being brought together for a videogame collaboration involving the Beijing Olympics, some gamers believed Nintendo were playing an April fool's joke on them.

Over the years there have been many great Mario games and more recently the likes of New Super Mario Bros on DS and Super Mario Galaxy on Wii have proven that Nintendo certainly don't need to collaborate with Sega in order to create something fresh and exciting for the moustached-plumber. So why do it then?

Well, in my humble opinion, the most recent Sonic games have been rubbish. I had the misfortune to review last year's Xbox 360 effort and I thought the developer had simply given up hope on their mascot. Let's face it; Sonic needs this collaboration far more than Mario does. When Sega won the coveted official license for this year's Olympic Games they must have held a meeting and wisely decided that it was the ideal opportunity to bring their speedy mascot back to life. What better way to do it then, than to team up with Nintendo? The Olympic spirit brings everyone together…and these two gaming legends could well be a match made in heaven.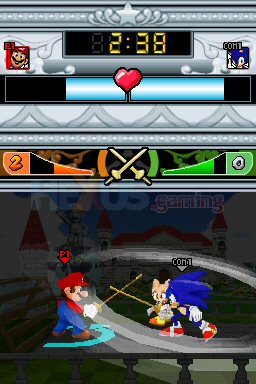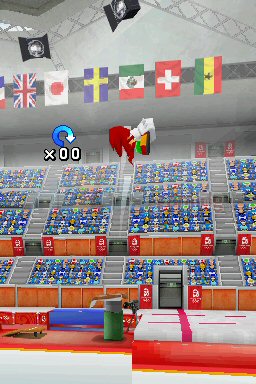 There are no rings to collect, no platforms to hop and not a 1up mushroom in sight in Mario & Sonic at the Olympic Games, it simply involves Mario, Sonic and their many friends competing at the Beijing Olympic Games with the aim of bagging the gold medal in sports like cycling, archery and the long jump.

With 24 events to unlock, it goes without saying that there some sports that you'll enjoy playing more than others. There are also events that make better use of the DS screen and stylus than others. After being subjected to some sloppy Wii-mote implementation, I didn't really expect the DS version to be much better, but I've been really surprised at how much more fun the game is compared to the Wii version.

You've got to hand it to Sega, the stylus has been used to superb effect and as a result the game is much more fun to play than its Wii counterpart. Like any game where you need to compete against others, you'll get far more satisfaction out of playing multiplayer mode with friends, but still there's enough variety to the events, plenty of things to unlock and enough of a challenge to ensure that you'll give it some serious play time.