On the starting grid
Released in 2007, the previous game based on the Superbike World Championship, SBK 07, showed plenty of promise for future iterations of the franchise and received decent reviews, averaging 71% on 'Gamerankings.com'. On that occasion, the game was only developed for the PSP and PS2, with developer Milestone taking the decision to hold off on a next-gen version in order to bring it up to scratch for the 2008 season.

So here we have SBK-08, the official game of the Superbike World Championship, due for release on PC, PS2, PSP, X360 and PS3 shortly. We've been testing out the preview code of the Xbox 360 version to see how the game is shaping up and we weren't surprised in the slightest to discover that the series first outing on Microsoft's console has been given a sparkly new makeover.

There are 12 official tracks to compete on and all the teams and riders are here from the 2008 season, including Ducati's Troy Bayliss and Yamaha's Haga Noriyuki.

The presentation has been stepped up a notch to give the game a next-gen feel. Not only do the bikes look great on the starting grid or when you're tearing them around the circuits, but the track surfaces also look much better, reflecting the light and the various weather conditions. Background detail has also been enhanced and is now more in line with what you'd expect to see on the Xbox 360, with clouds floating by overhead and fine detail in the spectator stands and scenery.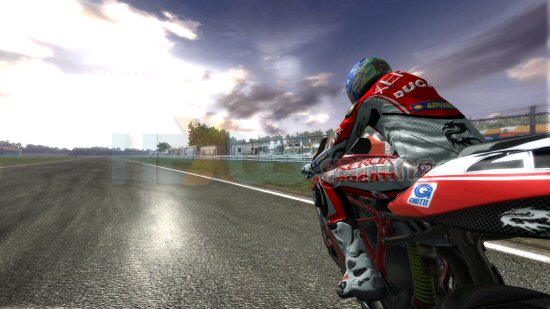 Click for larger image



The pre-game menu has been dumped in favour of a more stylish and realistic starting point. Referred to as the 'box', the hub of the game is essentially a garage where you and your team work from and make the big decisions before hitting the tracks. Here, you can tweak and customize almost every aspect of your bike and your race experience, including changing the likes of gear ratios, suspension and brakes. You can also hold a technical meeting with your engineer where he advises you on how to engineer your bike to suit your racing style.

In an attempt to enhance the atmosphere before you begin a race, the camera now zooms in and out of the riders as they prepare themselves on the starting grid, where they sit astride their two-wheeled beasts, swigging bottles of water and waving at the camera. There are also some scantily clad ladies who hold umbrellas for the riders as they drop cheeky winks at the camera. Pointless, but nevertheless better than watching a loading screen.

Read on overleaf