Mutilated body parts explode!
There are some good environmental tactics to be employed, such as shooting certain plant spore-pods, when enemies are under them, as the spores create confusion and the bad dudes start shooting each other. But it gets better. Use your energy leash (imagine a holo-whip) to leash your opponent, then hit them with both barrels of your gun, and as they are heaved away by the impact, tug them back, and kick them. Hard. And as they recoil, finish them off with a quick weapon change and a headshot.

As the mutilated body parts explode, you gain "fertiliser" points for feeding the plants! You want more? Oh you've got more: Shoot someone in the crotch, a proper 'nad destroyer, and as they collapse screaming for mercy….show it. Go for the "Mercy Kill" points, with a clean headshot. More? OK, how about a grenade launcher with twin grenades, linked by a cable (like an ancient "chain shot" for pirate's cannons). Even the gun site reticule shows the shape of ordnance that you're about to unleash. The party piece is that the ammo wraps around the target, and sticks, pauses, and then detonates. Around necks. Around lamp posts. Around moveable scenery! Fire it at the trolley, kick the trolley down the stairs into the approaching hoards, and then BANG! Oh we love this game, and we want it. We want to "Kill with Skill" NOW!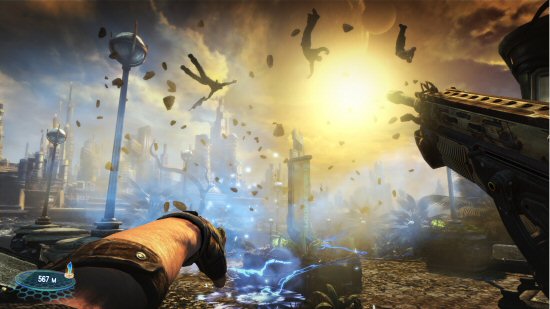 We think that, with the right game balance of swarming minions to kill and achievable objectives, and with a story written by a Marvel Comic's man, this could be THE hit of the Showcase.

More screenshots overleaf...