New game engine and naval combat
From Feudal Japan to Medieval Europe to the Mongol and Timurid invasions, the Total War series has taken us on a series of epic conquests and explorations around the Globe bringing fast-paced large scale real-time tactics and turn-based strategy battles to a huge audience.

Due for release in February 2009, the latest offering from The Creative Assembly's franchise is Empire: Total War, yet another game in the series that will offer historically charged combat, 3D battles and an immersive turn based campaign.

This time around the series has evolved with a brand new game engine and the debut of 3D naval combat. This means we'll be able to intuitively command vast fleets or single ships upon seascapes rich with water and weather effects that are said to play a huge role in our eventual success or ignominious defeat. Pummel your enemy with cannon fire, close in to grapple their ship and prepare to board taking control of your men as they fight hand to hand on the decks.

The action will be set in the 18th century, a period full of revolution, global conflict and technological advancements. Included in the historical themes will be the Industrial Revolution, America's struggle for independence, the race to control Eastern trade routes and the globalisation of war on land and sea.

Publisher, SEGA, say that they'll be 50 factions in the game with 10 playable from the start, including the Kingdom of Great Britain, the Ottaman Empire and the Thirteen Colonies.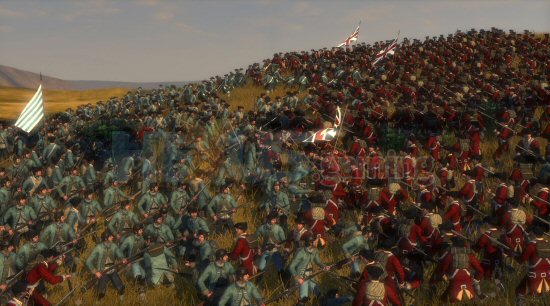 Click for larger image



Along with the introduction of Naval Combat, Empire: Total War will feature its trademark land battles where we'll get to control the likes of musketeers, cavalry and artillery as we attempt to command battalions and conquer key locations around the continents of the world.

Amongst the new additions will be the use of the cannon and musket, which will challenge fans of the series to master new formations and tactics as a result of the increasing role of gunpowder within warfare.

The campaign map will also feature improved systems for Trade, Diplomacy and Espionage with agents, a refined and streamlined UI, improved Advisors and extended scope taking in the riches of India, the turbulence of Europe and the untapped potential of North America. The Creative Assembly say that:

"Whereas the diplomatic and military AI in previous Total War games were separate entities, leading to some curious international actions, they have now been unified, which should result in more realistic diplomatic relations: more useful alliances and complex treaties"

With the new engine, enhancements and the developer claiming that Empire: Total War will be a huge revolutionary step for the series, this latest edition is looking as though it could be the biggest and best yet.

Over the next few pages we have new screenshots and the first three developer diaries written by Mike Brunton, writer and designer on Empire Total War at The Creative Assembly.