Nina's on the hunt for a new man...probably wise to dye the ginger hair
From the initial cut-scene it's clear to see that the developers have made substantial progress since the previous game in the series. Even in the first 10 minutes of the game you can see it in the improved movie-style direction of the cut-scenes, the atmospheric musical score that glides alongside it and the graphical make-over that brings it in line with modern day games. Immediately there's also a sense that the plot has a much darker tone than the original, and with murmurs that the end of the world may be nigh, you get the feeling that it's going to be an extremely interesting and thought-provoking journey.

The actual gameplay itself begins in the well-stocked library of Christ's College, Cambridge where you, Bishop Parrey, carry this mysterious parchment and its secrets in your hands. The window flings open under the pressure of the gales blowing fiercely outside and Bishop Parrey eyes two men dressed in black combat suits making their way towards the building.

Following Brother Matthew's letter of warning it's clear that it's not safe to keep the parchment in your hands for too long (at this point all we know about it so far is that it concerns someone called Zandong, whose mysterious prophecies speak of the end of the world) so without further ado, the first action you need to take is to find a safe hiding place for the parchment and hastily make for the exit. It's an excellent introduction to the game that leaves you wanting to find out more about this medieval cipher and the dark secrets behind it.

Time spent controlling Bishop Parrey is fairly short-lived and after solving a couple of easy puzzles he too is murdered and the scene shifts over to Nina, the heroine of the adventure (at a guess).

In this early first look at Secret Files 2, I controlled Nina through the majority of the gameplay in the search of the mysterious secrets that may lead to the prevention of the end of the world as we know it. It's currently unknown whether we'll be able to take part in team-based puzzles like we did with the first iteration, but I have a sneaky suspicion that this will happen.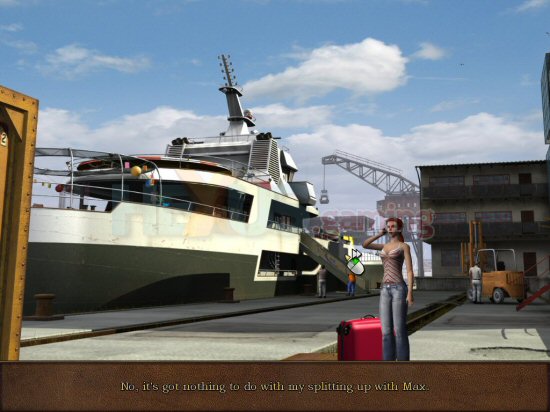 Click for larger image



One thing's for certain, there's no sign of Max, Nina's partner in the last game, and now the red-headed minx is about to embark on a relaxing cruise without her man in tow. After witnessing an accident on the harbour front it's obvious that Nina won't be doing much relaxing on this cruise and from this point forth you find yourself in your cabin on the cruise ship, where the adventuring truly begins.