Introduction
Earlier this week I found myself back in London, freezing cold and wandering around outside Victoria station on my way to a preview session of Pariah, the new game from the creators of Unreal, Digital Extremes, and published by Hip Interactive. I rolled up at the rather plush Victoria Park Plaza Hotel, and once I'd convinced them I wasn't there to sell copies of the Big Issue, I was ushered upstairs to have a look at the game.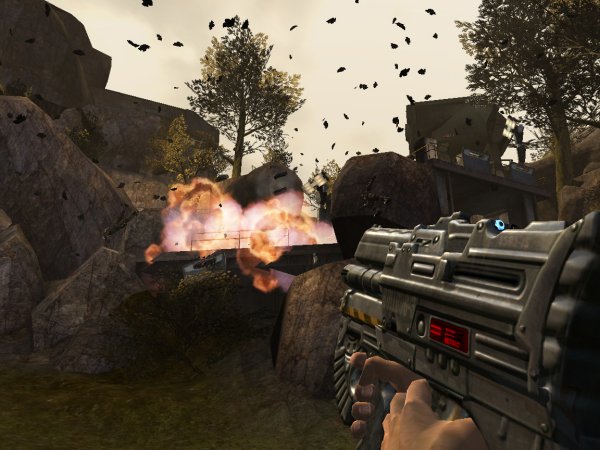 Waiting for me up there were Meridith Braun, Director of Corporate Communications for Digital Extremes and Manny Llamas, one of the artists working on the game. Once I'd got used to their Canadian accents, we like, hey, really hit it off, hey?

Manny loaded up the intro movie for the X-Box version, just to set the scene, while Meridith talked me through the background behind the game. In a nutshell, you play the part of Jack Mason (a great action shooter hero name if ever there was one!), a burnt out doctor who really has hit the lowest point in his less than illustrious career. You're reduced to baby sitting cryogenically frozen medical patients and are on a routine trip when your ship is blasted from the sky over a prison planet.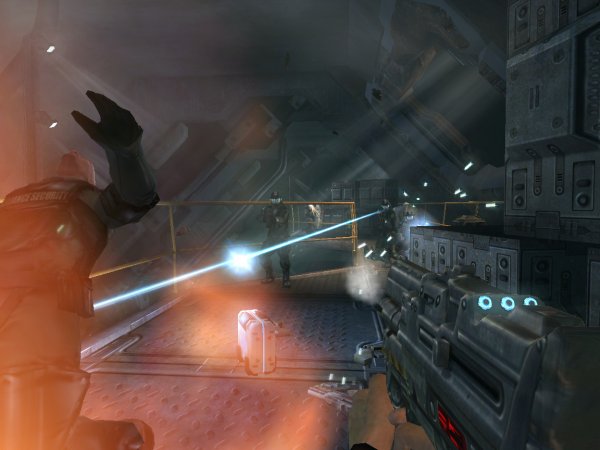 And so the game starts, with you knowing just about as much as I've told you. Manny then took over and showed me around the first level, which, in the tradition of FPS's everywhere, is really a training level. But it's not as boring as it sounds as DE have worked hard to disguise it as a normal level, plus every new game should give you a clue as to how to control it, hey?

Now, at this point its worth mentioning that DE have gone to considerable lengths with 'behind the scenes' work on Pariah. They're quite rightly proud of the fact that the storyline has been written by Hollywood scriptwriters, so it should all flow nicely and a little of the plot should unfold at each stage of the game. Hopefully, we won't get any of the smaltzy cheese that seems to permeate Hollywood movies at the moment… So, just to fill you in, your task is to find out what your patient is infected with and why the corporation wants her and the virus so badly…but I can't reveal any more without spoiling it for you… suffice to say that there's more to the plot than run and gun, oh yes indeedy!