Saints Row, Frontlines Fuel of War

Leading independent video game publisher THQ Inc. today announced the company is entering the Electronic Entertainment Expo (E3) with its strongest line-up to date, featuring innovative products for core and mass-market gamers spanning all platforms. The company's portfolio features internally developed next-generation console and Windows PC titles, mass-market licensed products and all new content for handheld and gaming system wireless devices.

THQ is capitalizing on a growing internal studio system of 14 wholly-owned developers and more than 25 of the best independent development teams worldwide to build a formidable product line-up that provides all gamers with new and innovative content. Playable for the first time, exclusively at the THQ booth, will be the much-anticipated Saints Row, developed by Volition, Inc. for the Xbox 360 video game and entertainment system from Microsoft, as well as cross-platform next-gen console title FrontlinesTM: Fuel of War, developed by THQ's Kaos Studios. WWE SmackDown vs. Raw 2007, developed by Yukes Co., Ltd. for THQ/Jakks, will be on display for both current and next-gen systems. Additionally, new original properties will include next-gen Windows PC titles Company of HeroesTM, developed by Relic Entertainment, and Supreme Commander.

High-profile licensed properties Disney/Pixar Cars, SpongeBob SquarePants: Creature from the Krusty Krab and Avatar: The Last Airbender, all scheduled to ship for next-gen and current gen systems, will also be on display.

"THQ is positioned to deliver original content to all segments of the video game market and capitalize on industry growth opportunities over the next several years," said Brian Farrell, president and CEO, THQ. "Our extensive studio system is building an impressive product pipeline of high-profile original and licensed properties that will keep THQ on the cutting edge of innovative development for all viable platforms."

Next Generation Console Line-Up

THQ's next-gen console line-up includes original, internally developed titles, and a high-profile addition to the WWE SmackDown vs. Raw franchise that brings the series to the Xbox 360 for the first time:

Saints Row: An explosive, third person, open-world action/driving hybrid developed by THQ's Volition, Inc., Saints Row is the only game in its genre that offers players unrivalled character customization options and a multiplayer experience through Xbox Live online entertainment network. In the game, players assume the role of a member of the 3rd Street Saints on a mission to rise up the gang ranks and eventually take over the city of Stilwater, controlled by rival gangs. In Saints Row, actions have consequences and players decide how best to muscle their way to the top. Saints Row is scheduled to release for Xbox 360 in fall 2006. Saints Row is also scheduled to ship for wireless devices in fall 2006.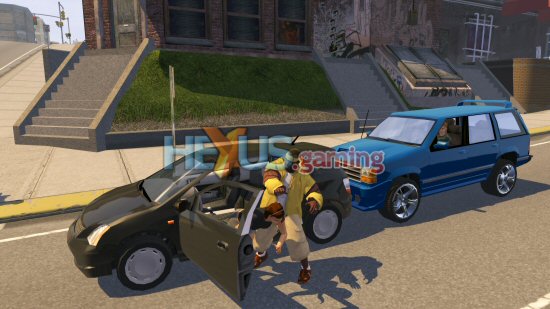 Click for larger image



Frontlines: Fuel of War: Developed by THQ's Kaos Studios, Frontlines: Fuel of War is an open world infantry and vehicle-based First Person Shooter featuring advanced next-gen weaponry that places gamers in a desperate struggle set in the near future. A global war for oil is being waged between two superpowers, the Western Coalition (US/NATO) and the Red Star Alliance (Russia/China), and gamers will play both sides within the context of battle. The single player campaign will focus on this story, as players battle through intense scenarios with other squad members, moving the frontline through enemy territories in this war-torn universe. Frontlines: Fuel of War is expected to ship for Xbox 360, PLAYSTATION 3 computer entertainment system and Windows PC in 2007.