The developers behind the Star Citizen FPS module took part in a Reddit Ask-Me-Anything (AMA) this weekend. A brief teaser trailer for this FPS was published earlier this month and it didn't show much… so it was very interesting to hear of the scope and features coming to this FPS Module on Reddit.
An alpha version of the FPS module should be ready "early next year," said the SC-FPS Team, adding that there will be continuous updates. It is a strategic FPS game with mechanics "built to discourage players from going ballistic and be very cautious while playing". The FPS module is said to draw its inspiration from Counter-Strike, Rainbow Six, Arma, Delta Force and Kill Zone.
When asked for an example of how the gameplay fits into the Star Citizen universe and what a typical FPS scenario might be, the SC-FPS Team put forward the following:
"A Persistent Universe experience. I'm a stealthy, solo player. I find a wrecked ship, i know scavengers will be around soon. I find a crate and put myself in it. I let the scavengers take the crate and put me in their ship. When i'm on their ship, some time later, i get out of the crate. Very quietly, i rummage around and find some goodies i like. I steal those... now i can either - A) Jump out the airlock and call a ride or B) go to their engine room and self destruct their ship or C) quietly hunt and execute the entire staff and take their ship.... or Z) they could have scanned the crate properly before loading it, blasted it with their ship and me with it..."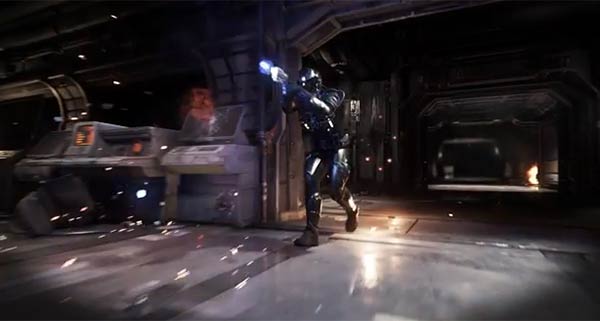 The SC-FPS Team also revealed that a breached airlock on a spaceship could drag anything, not tied down, into the void of space. FPS players carry portable shields and damage taken to specific limbs can affect abilities. A cover system will be in use where you can lean, crouch and peek around cover. There's going to be "tons of gadgets, grenades and weapons for your boarding adventures" and "tons of predefined game modes and levels".
For your information the SC-FPS Team consists of about 30 developers. The last time that we were updated, the crowdfunding campaign for Star Citizen had reached $58 million.