AMD has today issued a refresh of its popular and well known 'Never Settle Forever' games bundle promotion. Highlighted changes to the bundle, which gamers qualify for when they buy an AMD powered graphics card, include the widening on the range of qualifying graphics products and a few newly added games titles. The bundle refresh went beyond its obvious connotations and demonstrated that "we are leading and shaping the gaming industry," according to AMD corporate VP of and general manager of the Graphics Business Unit, Matt Skynner. So let's look at what's new…

Entry level welcome
This is the first time AMD has warmly welcomed its entry-level customers to eat a piece of the Radeon Rewards pie. Such customers, including buyers of AMD Radeon R7 250X, R7 250 and R7 240 GPUs, will now qualify for a Radeon Bronze Award.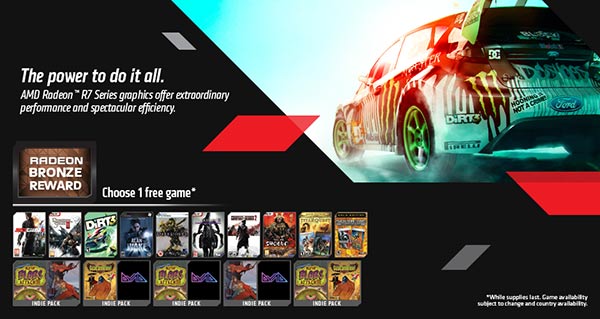 People in the cheap seats will now be able to choose from a single AAA or AA games title from AMD's roster or one of the new 'Indie Pack' selections described below. It's great for budget buyers. However they get to choose from a smaller range of AA/AAA titles than their Silver and Gold Reward cousins.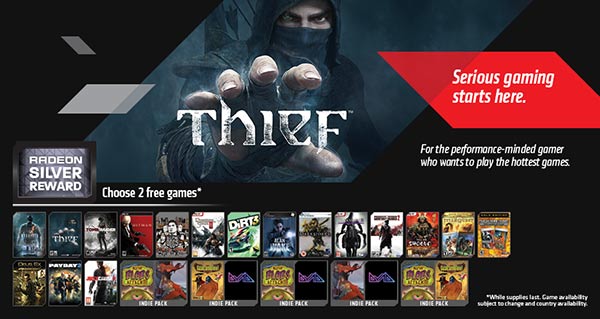 New bundle games
AMD proudly announce that Square Enix's upcoming 'Murdered: Soul Suspect', will be available to Radeon Gold and Silver Rewards earners for the first time. "Murdered: Soul Suspect releases June 3, 2014 but can be reserved on Radeon Rewards starting April 21st."
"With 'Murdered: Soul Suspect', we're looking forward to continuing the tradition of collaboration between Square Enix and AMD," said Naoto Sugiyama, the game's executive producer. "We're dedicated to bringing world-class experiences for PC gamers and look forward to the launch of our game in AMD's 'Never Settle Forever' program."
Also AMD has added a variety of independent games producer titles for the first time. These four games are bundled in pairs in five permutations. Titles include:
The refreshed Never Settle Forever starts today at the usual participating retailers. AMD says that if you don't really fancy the current offerings you can opt to save your reward code "in anticipation of upcoming titles". However you can't wait for eternity, you must use codes you receive in this promotion by the end of August this year.