Atari hope Legendary will be legendary.
At E3 this week, Atari will be showcasing its biggest game of the year, Legendary, a new first person shooter from the Turning Point: Fall of Liberty creator, Spark Unlimited.

Legendary: The Box tells the story of Charles Deckard, an art thief who is duped into stealing Pandora's Box. When he opens the box, he releases hordes of beasts thought to be fictional – such as werewolves and gryphons – into an unprepared modern world. A full scale war between man and myth begins, and it is quickly complicated by the actions of powerful secret societies. As the person responsible for releasing this terror, Deckard's unwittingly become the only person capable of containing it once more and saving civilization from being destroyed by the terrifying creatures of the box.

Amongst the features on offer we can expect:

* Modern military firepower meets the tooth and claw of legend. From creatures the size of a child, to Titans over ten stories tall.
* A massive, block-buster experience. Encounter three-way firefights: take on the beasts of the box and those who would seek to control them for their own, evil ends.
* Dynamic environments crumble, skyscrapers fall; the collapse of modern society in the face of the beasts of myth is realized in breath-taking detail.
* Incredible and unnerving AI: watch as werewolves scale vertical walls to find a path to the player and use objects in the environment to their advantage.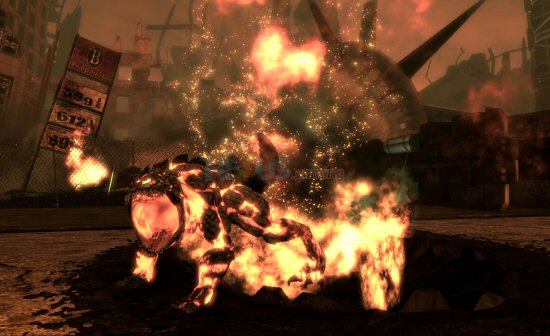 Click for larger image
More screenshots overleaf