HEXUS reported on the launch of the Humble Monthly subscription for PC gamers four years ago. For a monthly $12 fee it tempted subscribers by offering "a highly curated bundle of our favourite games at one fixed price". Over time the Humble Monthly offering has been refined and it became less of a 'lucky dip' as more games were pre-revealed ahead of the subscription fee being taken in any month.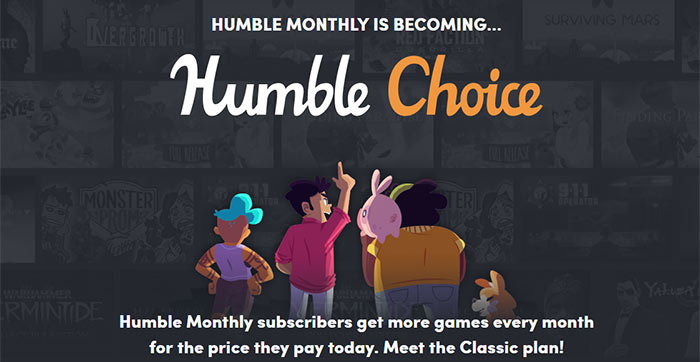 Now, the Humble Bundlers have given notice that the Humble Monthly subscription model is being replaced by a scheme called Humble Choice. As existing and recent Humble Monthly subscribers will be aware, currently your $12 fee delivers a handful of mystery titles which will include several early unlocks of better known games. This service will be 'grandfathered' and named the Humble Choice Classic option. As long as you are an existing subscriber you can continue with the $12 'Classic' as long as you never cancel it.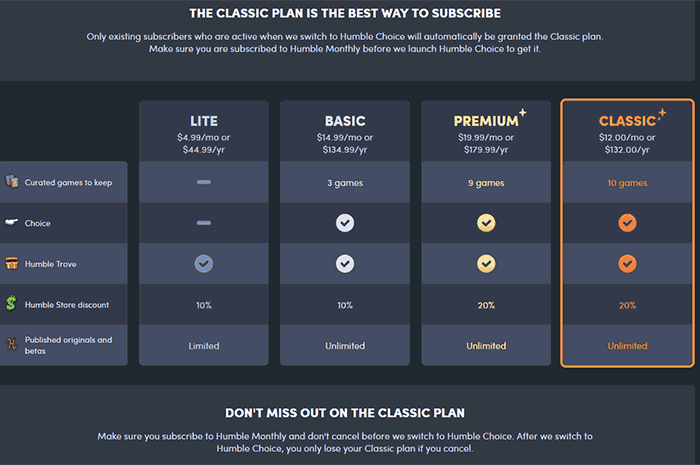 Otherwise Humble Choice has three tiers; Lite, Basic, and Premium. Rather than explain their differences, and compare them to Classic, please refer to the easy on the eye and brain feature table, reproduced above.
Humble Choice has been designed to offer a choice of games to keep from a wide selection, for all but Lite subscribers. Of course the big change is that you can have an idea of the choice you will make before paying that month's subscription, it is more of a choice and there is "no more mystery".
If you sign up to the $14.99 Basic plan, for example, from the host of curated games divvied up you will be able to download, play and keep three which particularly appeal. Premium moves this figure up to 9 games, for a $19.99 monthly fee. Meanwhile the Lite plan at $4.99 doesn't offer very much outside of the 60-game Humble Trove collection of Humble originals and other DRM-free games.
At the moment the Humble Bundlers aren't sharing a fixed date for the launch of Humble Choice, so it is still possible to jump onto the Humble Monthly and stay there, if you wish. The FAQ concerning this Classic offering says that it is hoped that Humble Choice will launch this year.
In some ways this looks like a marketing tool for the existing plan - hurrying people to subscribe and "lock in the Classic plan". We shall see if the introduction of the Humble Choice plans get delayed and people get further 'last chances' to jump to 'Classic'.