Microsoft has announced that it is going to be opening up subscriptions to the Xbox Game Pass for PC sometime after E3 in June. The recipe will be a familiar one, with unlimited access to 100+ curated high-quality titles from over 75 publishers. However, Microsoft says the PC subscription will be carved "specifically for the needs of PC gamers and PC game developers".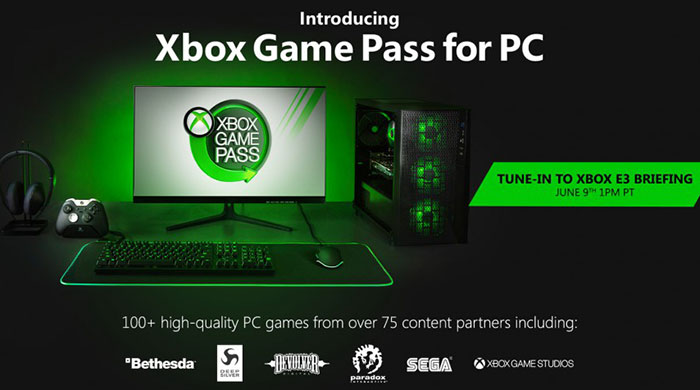 As indicated above, the basics of the Xbox Game Pass for PC will be the same as the service on Xbox. There will be a starting library of 100+ games from like likes of Bethesda, Sega, Paradox, Deep Silver and Devolver. Furthermore, new games from Xbox Game Studios will become available via the Xbox Game Pass for PC on the same day as their global release. These 'first party' titles will include new titles from the likes of Obsidian and inXile studios. Microsoft adds that it is working with over 75 developers and publishers to keep the PC library in tip-top shape across genres, with new games added every month.
If you choose to subscribe to the Xbox Game Pass for PC there will be some fringe benefits too. Specifically, Microsoft will providse discounts in the Microsoft Store on Windows - up to 20 per cent off games currently in the library, and up to 10 per cent off related game DLC and add-ons.
A couple of key pieces of information about the Xbox Game Pass for PC remain undisclosed. We expect Microsoft to share the subscription pricing plans and availability during the Xbox E3 briefing on 9th June. For reference, on the Xbox One console, the Game Pass costs £7.99 per month after an introductory £1 offer. If you watch the show you will get to see 14 Xbox Game Studios games too.
In this latest Xbox Wire announcement the Head of Xbox, Phil Spencer, shared news on two further aspects related to gaming on PCs. Firstly he said that Microsoft would be making Xbox Game Studios PC games available in multiple stores, including our the Microsoft Store on Windows, at their launch. For example, back in March Microsoft announced that Halo: The Master Chief Collection will come to PC later this year, launching on Steam in addition to the Microsoft Store on Windows. More than 20 further Xbox titles are headed to Steam at the time of writing. Another initiative is to enable full support for native Win32 games in the Microsoft Store on Windows.