Activision has announced the latest Call of Duty game for PC, Xbox One and PlayStation 4. The title, developed by Infinity Ward, will be Call of Duty: Modern Warfare, and it arrives on 25th October. Key features that might entice gamers are; an epic single-player story, with action-packed multiplayer and cooperative experiences, cross-play support, the elimination of the season pass with more free content, and a new engine "delivering an immersive and photo-realistic experience". Additionally, we have the official reveal trailer (with real in-game footage) to share, directly below.
In a press release, Dave Stohl, co-Studio Head at Infinity Ward, claimed that the new modern Warfare has been "reimagined in every way". A key change seems to be that the theatre of war is inspired by the modern world, with the complexities and blurred battle lines that implies. Much of the intense action is in iconic European cities and volatile expanses of the Middle East. The single player story is said to be especially strong but there will be "an action-packed multiplayer playground, and new cooperative gameplay," too.

From watching the trailer you might already be anticipating the graphical upgrades coming to the series. For increased immersion Infinity Ward has leveraged a new engine that is said to be capable of "delivering an immersive and photo-realistic experience". The new graphics engine includes "a physically-based material system allowing for state of the art photogrammetry, a new hybrid tile based streaming system, new PBR decal rendering system, world volumetric lighting, 4K HDR, DirectX Raytracing (PC) and more as well as a new GPU geometry pipeline," according to the press release. Furthermore, in battles where you use thermal imaging or night vision spectral rendering is used for realism. The visuals are accompanied with Dolby ATMOS autio, on supported platforms, to bring you even closer to the action.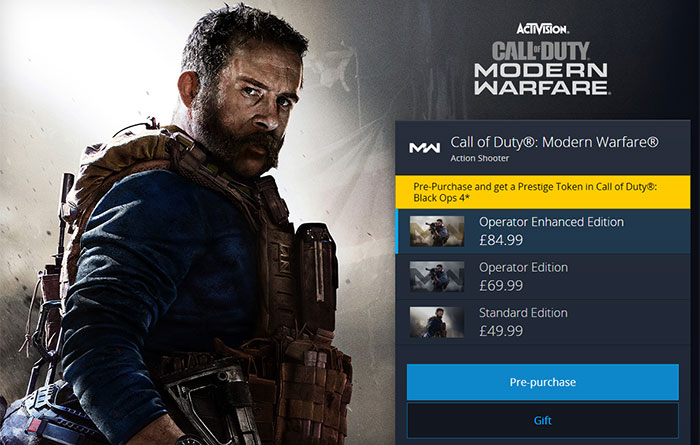 The optimised PC version of the game with DirectX Raytracing is being developed with Beenox with PC-centric controls, visuals, and performance optimisations. Call of Duty: Modern Warfare will be a Blizzard Battle.net exclusive. The game is ready for pre-order immediately in Standard, Operator Edition and Operator Enhanced Edition, each of which includes a variety of digital extras. Minimum and recommended specs are yet to be shared.