Microsoft has announced Age of Empires 4 at Gamescom 2017, in Cologne. The new title will be developed by Relic Entertainment and Microsoft Studios. Age of Empires 4 will be a PC exclusive. In related news, Microsoft announced that a remake of the original Age of Empires, called the 'Age of Empires: Definitive Edition', will be released on 19th October.
Age of Empires 4
Gamers seem to be rather excited about the new Age of Empires 4 game. It was announced by Microsoft last night at Gamescom. Age of Empires 4 will be PC only, and the development will be lead by Relic Entertainment with Microsoft Studios.
The above trailer has been watched over two million times in the last 14 hours.
Microsoft didn't provide much in the way of information about Age of Empires 4 and the above trailer isn't very informative. However, Relic has helped flesh out the story behind the game in its own blog post. Relic says that its developers are "the biggest fans of RTS games and, over the years, we've spent countless hours building empires and taking to battle." Thus they are excited to partner with Microsoft to "fuse historical context with deep strategic gameplay." It hopes to rekindle the popularity of this respected RTS franchise and work closely with the community.
Age of Empires 4 is still quite a long way away from release. Relic says that we will hear more details "in the months to come" as they get to work on the franchise.
Age of Empires: Definitive Edition
The release date for Age of Empires: Definitive Edition has been set for 19th October. This release commemorates the 20th anniversary of the original game. Microsoft promises to keep many aspects of the game and its gameplay mechanics the same to preserve its feel but also promises "a ton of awesome new features," as below:
All-new 4K graphics
Re-orchestrated soundtrack
New zoom levels
Attack Move, Unit queuing
250-300 population cap
Rally Points Basic, Rally Points Contextual (Intelligent Villagers)
Grid default key layout
Select Idle Military, Select Idle Villagers
Right-click mouse scroll
And MORE!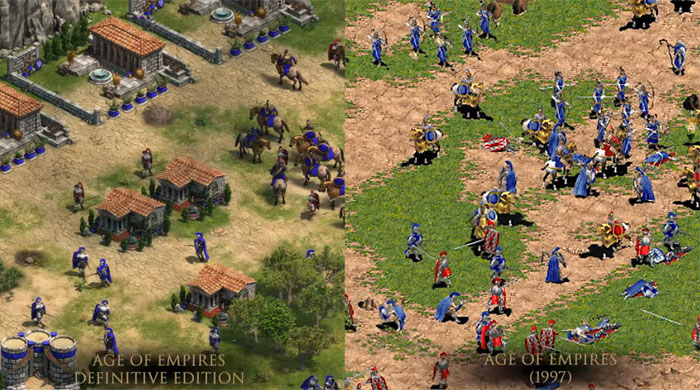 In the wake of the above announcement it was confirmed that Definitive Editions of both Age of Empires II and III are in the works. With that in mind, and to either introduce gamers or provide a recap for the whole franchise, Microsoft has produced the 'History of the Age of Empires' mini-documentary video below. Forgotten Empires is the developer behind all three Definitive Editions.