Nvidia has announced yet another PC gaming bundle. This time around you don't only have to buy a GTX 10 series GPU or system, you also have to hand over the cash for a HTC Vive at the same time. With the hefty cash outlay required for such a hardware extravaganza, Nvidia is rightly giving away not just one of a choice of three but a full trio of VR gaming titles.
Before looking at the games, let's examine the qualifying hardware purchases required for your post-purchase bundle satisfaction. The Nvidia hardware side of the purchase equation requires you to buy a GeForce GTX 1080, 1070 or 1060 graphics card, system, or laptop. Then, to satisfy the T&Cs you must also buy the HTC Vive headset.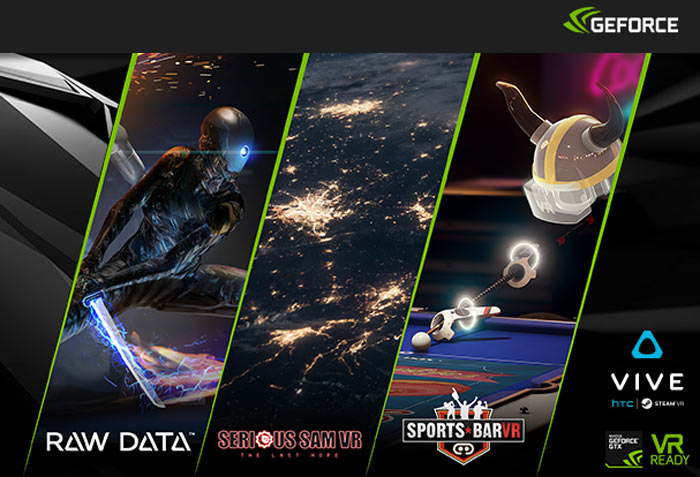 As usual you must buy from certain etail/retail outfits. In the USA that is either Microsoft or Newegg. In the UK you can purchase via Scan or Overclockers UK. The offer is open in Europe, the Middle East, Africa, India, and Asia territories and a global bundle promo landing page is available here. Worldwide the bundle offer runs from 12th Dec to 31st January 2017, or until the free game code well dries up.
Raw Data is VR combat game in a sci-fi setting. It is an Early Access game on Steam with 'very positive' reviews. Serious Sam VR takes the well known PC game franchise to a new dimension. Step into Sam's shoes and eliminate hoards of enemies, wielding tons of guns, and experience a wide range of environments across planets. Again, this is an Early Access title with 'very positive' reviews.
Last but maybe least, Sports Bar VR lets you virtually loose in a bar equipped with Pool tables, Air Hockey tables, Dart boards, and more. You can play online against random opponents and between games can 'interact with the many physics objects' you find in the bar environment. This game garners 'mostly positive' reviews on Steam.