Shape-shifting retro-style shooter
On paper, the idea of playing a 2D arcade shooter that involves weaving in and out of a bizarre mixture of geometrical shapes with an unimpressive looking claw-shaped "ship" doesn't sound that appealing.

In reality though, the blend of old-school action, 3D effects, pumping soundtrack and fast-paced flowing gameplay, means that it's hard not to get sucked into Geometry War's stimulating world of swirling patterns.

Bizarre Creations mini-game originally held the record for the most-downloaded Xbox Live Arcade game and at launch it was just as popular, if not even more so in some circles, then the likes of the first next-gen gen titles, Perfect Dark Zero and Kameo Elements of Power.

At E3 this week, we've been just as excited to hear about and see the first screenshots of the new Geometry Wars Retro Evolved 2, then some of the other 'AAA' games on show.

This new version will feature six different action-packed gameplay modes, including a multiplayer and co-op mode that will accommodate up to four players, all of which will once again be set against a backdrop of vibrant visuals and an electrifying soundtrack.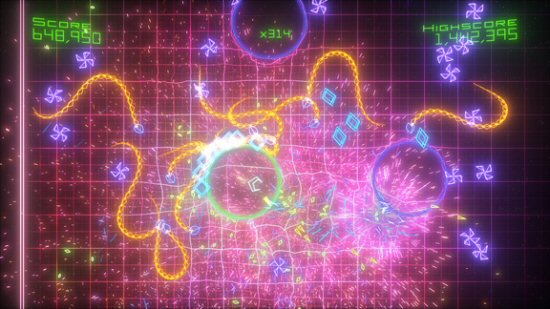 Continued overleaf