Sci-fi FPS with extensive customisation options
Over at E3 in Los Angeles this week, Gearbox Software and 2K Games has been showcasing its new sci-f first person shooter, Borderlands, a game that they say will feature "incredible layers of gameplay depth."

This is mainly down to the content generation system which allows for near-endless variety in missions, environments, enemies, weapons, item drops and character customization.

Borderlands also allows for multiple players to share the same game experience simultaneously online in co-op gameplay. pPayers can freely join or leave each other's games at anytime, or choose to play in the full single-player mode.

The storyline, as unearthed by Game Informer is set in the distant future where colonization ships are heading to a planet called Pandora.

The colonists are drawn there in search of a better life as well as vast mineral resources said to be on the planet, free for anyone's taking, akin to a futuristic gold rush. Some time after settling the colonists discover that there is little the planet offers, aside from some decrepit alien ruins. Those who have money leave, the remaining population devolves into chaos and lawlessness. Some of the settlers seek to get rich quick by discovering alien technology. Most others are just trying to survive. After seven earth years, the planet's slow orbit brings a transition from winter to spring, and many horrifying creatures emerge from hibernation.

Borderlands is looking to satisfy the thirst of any FPS gamers out there, with an arsenal of thousands of weapons, each with their unique manufacturers, specifications and advantages. We'll be able to pimp our guns in many different ways to create our ultimate weapon.

The game will also feature an FPS/ RPG-style character progression, where players earn experience and gain proficiency in a number of specialties as they do battle with enemies.

They'll also be vehicular combat thrown in, though no further details have been surfaced.

If you've ever experienced any of Gearbox Software's Brothers In Arms games then you'll know it has the pedigree to make Borderlands a very special shooter. The bad news is that we won't be finding out until its release, currently expected to be in November, 2008.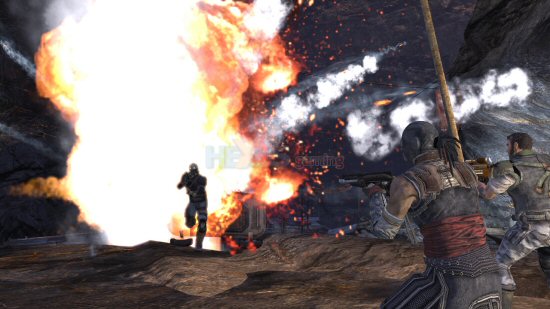 Click for larger image
More screenshots overleaf