Featuring all of your favourite riders
The first officially licensed MotoGP title ever for the Nintendo Wii platform, MotoGP arrives on Wii in March, turning the Wii remote into a virtual set of handlebars.

Moto GP will feature three race classes – 125cc, 250cc and MotoGP and will feature competitive AI which adjusts within limits to give a more enjoyable race experience on the lower levels but shows no mercy in the higher levels.

The game will offer a wealth of game modes:

TUTORIAL MODE

This allows the player to decide what motorcycle and racing style suits them best. But rather than the tutorial mode taking players 'out of the main game', this mode will transport them immediately into an arcade race and offer hints and tips from the beginning. By pressing START players can pause the game, allowing them to test out and alter the racing model (from 'Arcade' to 'Advanced' or 'Simulation'), change transmission options or leave the tutorial mode entirely. Players can also choose the option to automatically see live tips whilst playing, where the game will judge riding style and offer help and advice where needed.

MAIN MODES

Career mode – Players get to create their own rider (in previous MotoGP titles you've only been able to select an existing rider of the MotoGP event) and develop their racing skills for up to 5 seasons with the aim of becoming the ultimate MotoGP champion. Choosing a team and bike class at the beginning of each season, riders can make customisations through a selection of bike helmet designs that unlock as players progress. As races are won, stronger teams will be looking to recruit for the following season, enabling players to race better performing bikes. As progress is made players will also be able to access certain bike upgrades which improve the rider's performance across a range of parameters such as straight line speed, acceleration, braking and cornering.

Quick race – Players can choose their favourite track, rider, difficulty level, bike class, riding model, transmission type, number of laps and weather conditions and go race.

Time Attack – set the best time at each circuit, competing against yourself to shave vital seconds off your personal record. Select the circuit and rider and off you go. Players decide whether they want a ghost rider to compete against, improving where they can to beat their previous lap times.

Championship – Select any class, rider and team and compete in and re-create an entire season. Practice and qualifying modes are optional whilst the weather conditions, difficulty setting, number of laps and handling model can also be decided, allowing players to shape their own season. Before each race players can tweak the set-up of their bike, including changing tyres, suspension settings and gear ratios. During the championship rider standings can be checked to see where players rank and view individual performance statistics for the real aficionados. If players are still not happy with their own performance the practice racing circuit can be tried out alone (solo) in free practice mode.

2 player - MotoGP also features a two player head to head option with the addition of AI controlled bikes to add more of a challenge to the race.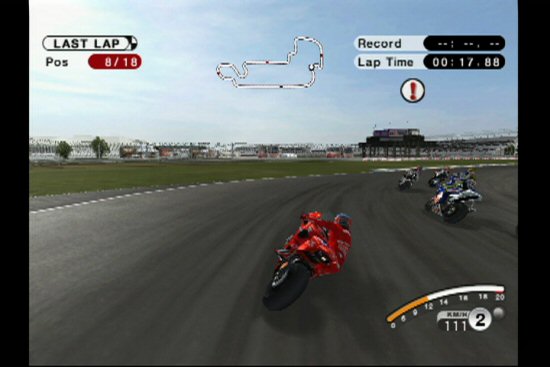 More game modes and screenshots overleaf...