Exclusive content, Mii support and multiplayer action
Konami has released some screenshots and new details for Pro Evolution Soccer 2008 on Wii, which will make its debut in the UK on March 28th.

Crucial to PES 2008 for Wii is an all-new control system that elevates the level of control available to the player while retaining the depth and intuitive moves of the series. Making use of the Wii Remote and Nunchuk, the player must also consider the movements of their teammates around them. The Nunchuck is used to move the current player, while the Wii Remote is used to pick out players to send them on runs or to receive passes via simple click and drag system which uses arrows to show the path of the run, and a press of the 'B' button to complete the move.

The level of control offered by the bespoke Wii system elevates PES 2008 far beyond any other football game. Dribbling is effected by clicking on the player and using an arrow and the 'A' button to guide the ball. The speed of the run can then be altered by extending or reducing the length of the guiding arrow, allowing stunning quick turns and bursts of speed to catch defenders off-guard.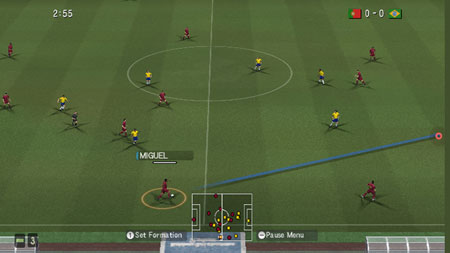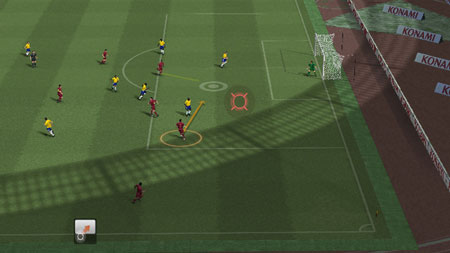 Shooting also benefits from more control over the players, with the Nunchuck used to shoot or head simply by shaking it. As with the real sport, however, timing is everything in front of goal, and the speed of the pass or cross, the ability of the player, the angle of trajectory and the timing of the shot or header will all have differing effects on the resultant shot.

To ease the player into the stunning level of control PES 2008 offers, the Wii game features a wide-ranging Tutorial mode wherein a series of instructional videos and tests detail how the Wii Remote and Nunchuck can be used to man-mark players, pass into space, clear dangerous crosses and perform slide tackles. Every aspect of the modern game is brought to vivid life, and the advances in control ensure that PES 2008 is a game that develops and surprises as the user's skill grows.

PES 2008 challenges the player further across six game modes, including Match, League and Cup games, the aforementioned Training system and a Player Trade option. By the far the greatest challenge, however, awaits in the all-new 'Champions Road' competition.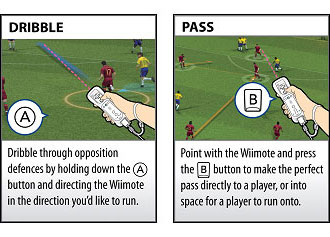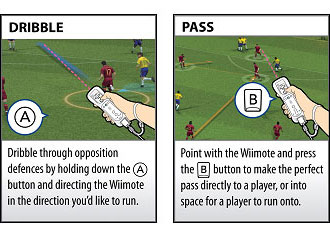 Champions Road is a global, rewards-based challenge, where players are invited to guide and develop the team of their choice through a series of league games all over the world. By systematically winning each competition, the user is given Experience points which can be used to bolster the attributes of their team. Likewise, as team after team is defeated, the player can cherry-pick the best players of the teams they have beaten to their starting XI. In turn, extra skills can also be unlocked, allowing users to piece together a 'Dream Team' that constantly grows and evolves as they become more successful. Additional mini-tasks are also randomly set during the course of a Champions Road match, too, such as scoring a hat-trick or stringing together a succession of passes, and doing so allows the player to add higher-rated players to their team.

PES 2008 is also the first Konami Wii title to make use of Nintendo's highly personal Mii characters. Used as in-game avatars by the Wii user, players can integrate up to 16 pre-defined Miis into a team, while the resultant teams can be stored on to the Wii Remote and switched between two linked Remotes. PES 2008 also enjoys a strong online element, allowing users to play 'Free Matches' against unknown opponents, or 'Friend Matches' against people on the Wii's Friends list, while team data can also be sent to friends via the console's WiiConnect24 system.

More screenshots overleaf