Competitive Karaoke just got serious
In the world of videogames, the competitive karaoke scene has long been dominated by Sony Computer Entertainment and its Singstar franchise, but it's about to face a new and serious challenger to its throne with Microsoft's own invite to those living-room singers who like to murder popular hits; Lips.

Microsoft has a long way to go though to catch up with Singstar, which has had strong sales and critical success since 2004, but it does seem to be on the right track.

There's little been seen or heard about Lips, other than what was revealed at E3 last month, but what we do know makes for very pleasant reading indeed.

With Singstar we know that Sony has fine-tuned its interface and tweaked its scoring system over the years to create a compelling singing contest. We also know that it has developed an excellent speech recognition system that has great rhythm and pitch detection, but the biggest problem has always been that of music choice.

With the PS2 versions you're restricted to fairly short and ambiguous song lists, of which there's normally only three of four really decent songs that we actually enjoy singing. In Singstar PS3, premium downloadable content has given gamers much more choice, but it' still a restrictive list hampered no doubt by the companies ties with the record label Sony BMG.

This is where Lips seems to have an advantage, giving Karaoke fans the opportunity to competitively sing any (DRM-free) song from their music collection. Currently, we don't know exactly how easy the process will be or how the game will interpret the song and rank you on it, but this will be the first time that any console Karaoke game has allowed us to competitively compete with almost any song. It's certainly an innovative move from the Microsoft camp and one that is sure to make Sony sit up and take notice. Providing it works efficiently, Microsoft will certainly have the upper-hand in terms of song choice.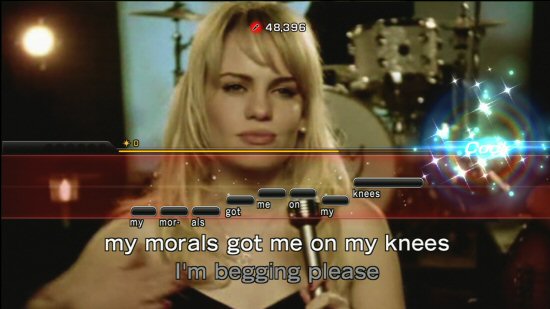 Continued overleaf