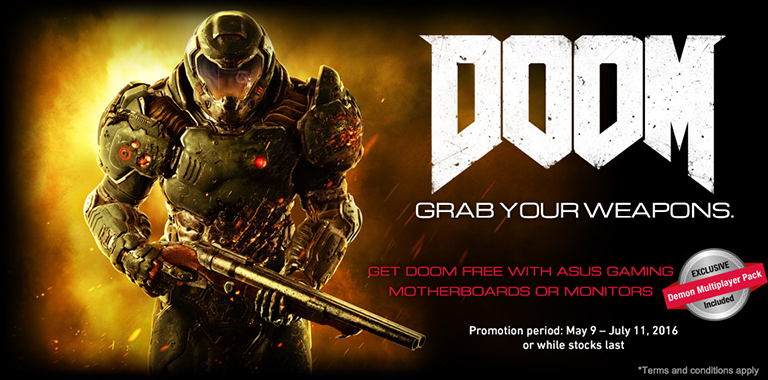 Nvidia's GeForce GTX 1080 has been hogging the limelight this past week - rightfully so, as it's a mighty attractive piece of kit - yet there's much more to PC gaming than just ultra-high-end components.
What makes PC hardware so attractive is that it caters for a wide range of budgets, and though we'd all love a GTX 1080-powered rig and a lush 4K display, many of us have to consider more realistic options. So how much performance do you really need if, say, you want to play a brand-spanking-new game with a good dollop of image quality at the ubiquitous full-HD resolution?
To find out, we've teamed up with Asus to see what mainstream levels of hardware can achieve in one of the year's most high-profile titles, Doom. The 2016 reboot of the 1993 cult classic delivers outstanding visuals with the series' trademark levels of gore and is currently available for free with the purchase of select Asus motherboards or monitors.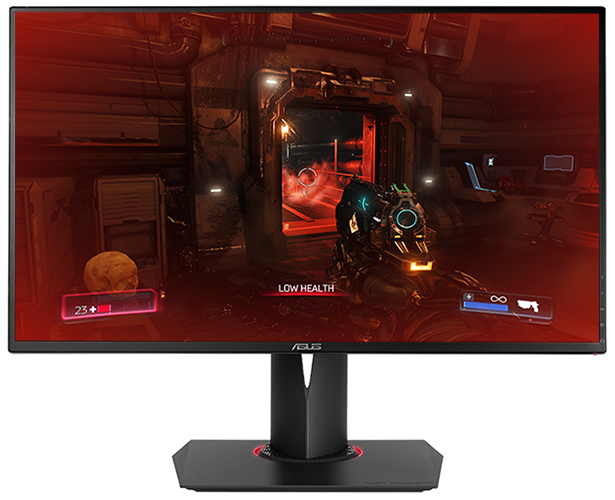 Disturbingly violent yet satisfyingly action-packed, the game is a feast for the eyes and going by the recommended specs for the beta that took place earlier this year, a GeForce GTX 970 or better is recommended for 1080p gameplay. But with the fine-tuning that's taken place in subsequent months, is the final version of Doom perfectly playable on lesser hardware?
That's the question, so we've put two Asus-powered test platforms together to see how low-to-mid-range components fare. The first rig comprises an Intel Core i3-6100 processor on an Asus B150 Pro Gaming/Aura motherboard outfitted with an Asus Strix GTX 950 graphics card. The second, more-powerful system employs an Intel Core i5-6500 chip on an Asus H170 Pro Gaming motherboard with Asus Strix GTX 970 graphics. Both platforms use 8GB of DDR4 memory and a 256GB SK hynix SSD.
System 1: Core i3 + GTX 950

System 2: Core i5 + GTX 970

CPU

Intel Core i3-6100

Intel Core i5-6500

CPU Cores / Threads

2 / 4

4 / 4

CPU Smart Cache

3MB

6MB

CPU Base / Turbo Frequency

3.7GHz / -

3.2GHz / 3.6GHz

CPU TDP

51W

65W

Motherboard
Motherboard BIOS

0501

0703

Memory

G.Skill RipJaws V 8GB (2x4GB)

G.Skill RipJaws V 8GB (2x4GB)

Memory Speed

DDR4-2400

DDR4-2400

GPU
GPU Cores

768

1,664

GPU Base / Turbo Frequency

1,165MHz / 1,355MHz

1,114MHz / 1,253MHz

GPU Memory Size / Bus

2,048MB / 128-bit

4,096MB / 256-bit

GPU Memory Frequency

6,612MHz

7,012MHz

Graphics Driver

GeForce 365.19

GeForce 365.19

Storage Device

256GB SK hynix Canvas SC300

256GB SK hynix Canvas SC300

Power Supply

be quiet! Straight Power 10 (500W)

be quiet! Straight Power 10 (500W)

Operating System

Windows 10 Home (64-bit)

Windows 10 Home (64-bit)

Core Component Cost*

£430

£645

*core components defined as CPU, Motherboard, Memory, GPU and SSD
Breaking out the specification table makes the hardware easier to digest, and the cost of the core components represents a key point of differentiation. Heck, System 1's total core component cost is a mere £430, and even System 2, at £645, represents only a small increase over the cost of a single GeForce GTX 1080 Founders Edition.
We've become accustomed to ultra-high-end gear around these here parts, yet there's plenty to like about the aforementioned builds. Both proved to be extremely quiet when gaming, system-wide power consumption peaked at just 130 watts and 192 watts, respectively, and in case you're looking for a point of reference, System 1 scored 5,711 in 3DMark Fire Strike while System 2 hit 9,111.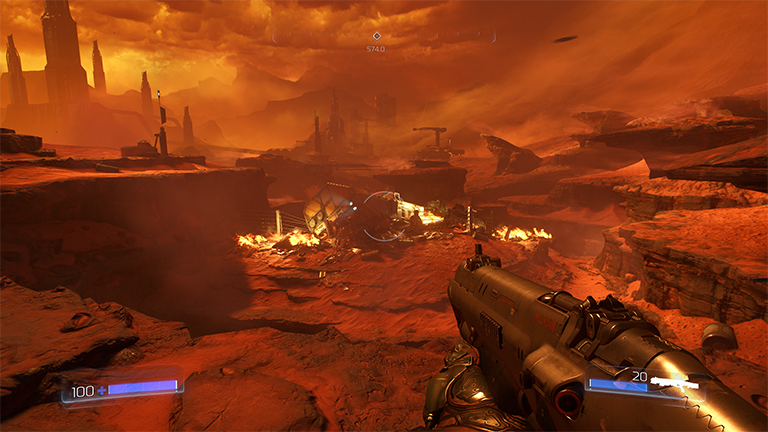 But is that really enough to play the likes of Doom with decent amounts of image quality at 1080p while keeping things silky smooth? We've benchmarked a 30-second stint with anti-aliasing set to FXAA and quality settings alternating between medium, high and ultra.
For what it's worth, the game looks great even at medium, and in our estimation it's the higher resolution as opposed to increased quality settings that makes this title pop. Anything beyond FHD (1,920x1,080) exceeds the remit of the Core i3/GTX 950 machine; however the Core i5/GTX 970 build should manage more and has therefore also been benchmarked at QHD (2,560x1,440).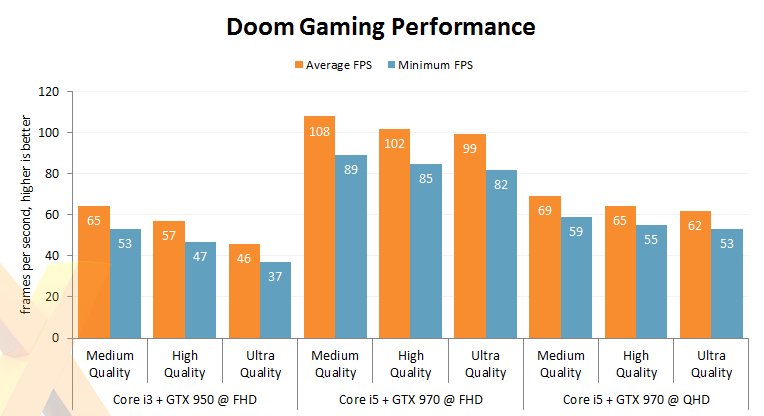 So can Doom play well and look good on £430's worth of core components? The answer is yes. We managed a smooth 57 frames per second at 1080p on the Core i3 and GTX 950 combination with quality settings dialled-in to high. Moving up to ultra quality takes away some of that silky smooth feel, yet the game remains playable and if you don't imagine migrating away from your trusty full-HD display anytime soon, the GTX 950 continues to serve as a well-balanced choice.
Over on the Core i5/GTX 970 machine, there's far more muscle to play with. This configuration dances through FHD gameplay irrespective of quality settings, averaging almost 100 frames per second. Handy if high-framerate gaming is your cup of tea, but what's useful is that there's enough headroom to step up to QHD and still maintain the desired 60 frames per second. At this resolution Doom looks far more impressive than it would on any games console.
A timely reminder that while we all covet hardware that's shiny and new, there's plenty of mileage in lower-cost components, and PC gaming needn't be hugely expensive. How is your rig faring with the demands of running Doom at ultra-quality settings? Do you feel it's time for an upgrade soon? If so, check out the limited-time Asus promotion, which runs until July 11 and gives you the chance to claim Doom for free when purchasing an eligible motherboard or monitor.