A taster of what's to come in Blizzard's dark fantasy/horror-themed action role-playing game
Diablo 3's release date is still an uncertainty, it could slip into 2012, but the good news is that the beta phase should begin before the end of September. A couple of interesting snippets of information were also revealed this week, including the fact that players will have to be online in order to play Diablo III and that items can be auctioned between players for real money.

In this Q&A, Blizzard fills us in on the basics, such as "What is Diablo II?" but also gives us an insight into how the multiplayer component will work.

Q: What is Diablo III?
A: We're developing Diablo III to be the definitive action role-playing game and a true continuation of the Diablo series. Players will adventure through rich and varied settings, unraveling an epic storyline, engaging in combat with hordes of monsters and challenging bosses, growing in experience and ability, and acquiring items of incredible power. Diablo III will be a fitting sequel to Diablo II, with the easy interface, fast-paced action, and visceral gameplay that Diablo players have come to expect and enjoy. It will also include many new features that will take the Diablo action-RPG experience to the next level.

Q: Which characters will be in Diablo III?
A: Players will create a male or female hero from one of five distinct classes -- barbarian, witch doctor, wizard, monk, or demon hunter -- each equipped with an array of spells and abilities. New customization options will provide for an even greater level of character specialization than the previous Diablo games, allowing players to create unique characters brimming with power.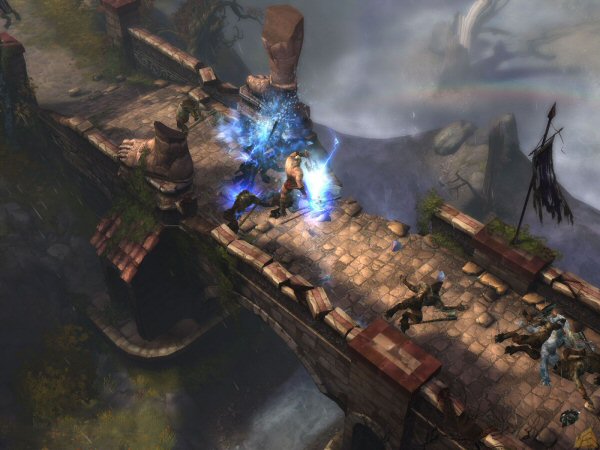 Q: What can you tell us about the different classes?
A: The dual-wielding barbarian is one of the stoic guardians of Mount Arreat. Armed with powerful abilities and moves, this plate-wearing savage wields ferocious weapons to annihilate the demonic forces threatening the world of Sanctuary.

The fearsome witch doctor hails from the terrifying Tribe of the Five Hills of the legendary umbaru race. The witch doctor is equipped with spells and alchemical powers; can summon mongrels, locust swarms, and zombie armies; and hurls fiery concoctions to annihilate any demon foolish enough to trifle with the powers of the umbaru.

The wizard is a wielder of the elements and a master manipulator of time, who combats the hordes of the Burning Hells by launching environment-shattering lightning bolts, channeling explosive arcane energies, and creating pockets of space outside of the normal flow of time.

The monk is a skilled warrior of unparalleled dexterity. Armed with speed, holy fervor, and a quest for physical and spiritual perfection, the monk becomes a deadly apparition in the heat of battle, moving faster than the eye can follow to strike down enemies with a barrage of lightning-fast blows.

The demon hunter has a sole purpose in life: to track down and destroy every last demonic being that dares to threaten humanity. Lithe and notoriously deadly with a pair of dual crossbows, the demon hunter brings an entire arsenal of arcane gadgets and mystical traps to the battlefields of Sanctuary.