8th Jan - Darksiders
Darksiders
Publisher: THQ
Developer: Vigil Games
Platform: Xbox 360, PS3
Release date: 8th January, 2010.

Described as a combat action game, Darksiders takes its inspiration from the apocalypse and battle of armageddon described in the Book of Revelation with the player taking the role of "War", one of the four horsemen of the apocalypse.

We'll get to explore a world set 100 years after the biblical Apocalypse, traveling through expansive dungeons, battling demons and angels and striking deals with unsavory characters in a quest to restore the balance between Heaven and Hell.

The lack of a multiplayer mode is sure to knock down review scores, but initial indications from first hands-on impressions have been extremely positive, praising Darksiders for its fast and fluid pace and range of powers and upgrades.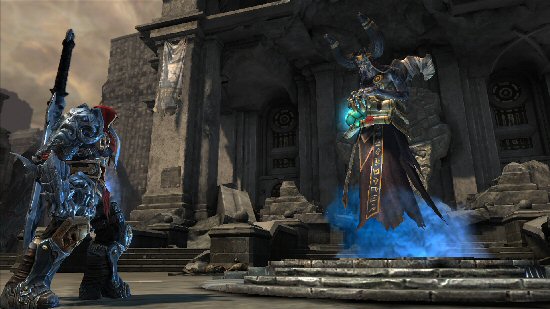 Vigil Games is a fairly new developer, formed in 2005 as a division of THQ, so there's an element of the unknown with what to expect from Darksiders. We'll have a full review in the New Year.

Continued overleaf...