Introduction
The emergence of modern technology has transformed the way in which we consume information, but when it comes to collecting raw data, few would argue against the virtues of pen and paper.
But paper has its drawbacks. Paper documents remain physically bound, they can be lost, they can be damaged, and they can't be easily shared through today's modern mediums; i.e. Facebook and Twitter.
It seems the paper world and the digital world are destined to live as two separate entities, but what if they were able to merge?
That's where Livescribe comes in. The company, founded in 2007 by inventor Jim Marggraff - whose previous creations include Children's learning tools such as the LeapPad and the LeapFrog FLY Pentop Computer - hopes to "fundamentally changing the way people capture, access and share information with pen and paper."
Lofty claims, but the company had our attention earlier this year when a demo of its first-generation smartpen - the Livescribe Pulse - left us more than impressed.
The demos are hugely convincing, but is the smartpen really a valuable tool? To find out, we've been using the second-generation Livescribe Echo for the past two weeks to capture everything from notes to shopping lists.
What is the Livescribe Echo smartpen?

If you're new to the term smartpen, you're probably wondering what the Livescribe Echo is.
Priced at £180, it's a premium digital pen that exists in a platform that consists of two other key components; specialised dot paper and software applications.
And the pen itself is no ordinary Bic. As you'd expect, it houses an ink cartridge, but it also contains an ARM 9 processor, a 96x18 OLED display, up to 8GB of NAND flash memory, an embedded microphone and speaker, and a high-speed infrared camera that captures over 70 images each second.
The Echo is a mini computer of sorts, and its functions are numerous; it can record sound and handwriting simultaneously, and it can playback recordings, too.

Measuring 158mm in length, the Echo is about as long as a normal pen but it's understandably thicker and it can feel unusual at first.
After a short spell of writing, however, the Echo starts to feel surprisingly comfortable. The soft-rubber grip is very pleasant, and the pen's weight - 36g to be exact - feels perfectly balanced.
How does it work?
The smartpen's primary feature - the ability to record handwriting - relies on a trio of elements; the pen's high-speed camera, an integrated pressure sensor and specialised dot paper.
The latter, designed by Swedish company Anoto and licensed by Livescribe, is a sheet of paper printed with a non-repeating dot pattern. The dots are so small and numerous that they're practically invisible to the human eye, but they can be interpreted by the Echo's high-speed camera.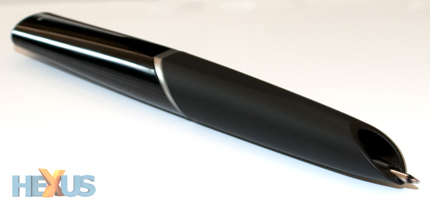 Integrated into the tip of the pen, the camera takes a continuous series of photographs as you write, of 6 x 6 dots, spaced 0.3mm apart, creating images of 1.8 x 1.8mm grids of 36 dots. Those pictures are then decoded by the smartpen to determine where the pen makes contact on any given page.
Clever stuff, and it's important to note that the pen doesn't actually see your ink. Using the integrated pressure sensor, it instead remembers where the tip made contact with the page, creating a digital snapshot as it goes along.
That begs the question; if it's just standard paper with millions of pre-printed dots, can I not print my own dot paper at home? Well, you can, but you'll need a colour laser printer that's Adobe PostScript compatible and able to print at 600dpi or higher. Something we're willing to bet most home users don't have.
In addition to recording handwriting, the smartpen can also simultaneously record audio and store it on internal flash memory. Audio can be played back either through the pen's integrated speaker, external speakers via the 3.5mm audio jack, or desktop software on your PC or Mac.
What's the difference between the Pulse and the Echo?
The Echo's rubber grip is a new addition, and it's one of few major changes. Though the first-generation and second-generation pens are functionally the same, the Echo also offers more memory (up to 8GB, as opposed to 4 on the Pulse), a flat underside to prevent it from rolling off your desk, and pen caps that allow you to keep the lid on whilst the pen's in your pocket.
What's arguably more useful is the fact that Livescribe has standardised the pen's connectivity options.
Unlike the Pulse - which utilised proprietary connectors - the new Echo sports a standard micro-USB connector and a 3.5mm headphone jack.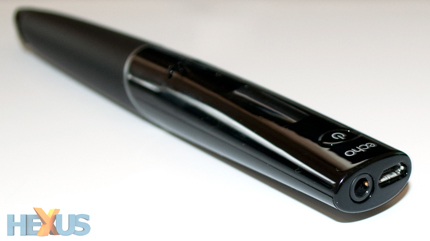 That'll ensure compatibility with most third-party headsets, but there's a catch; the Echo no longer ships with a bundled 3D recording headset as standard. It's now a £30 optional extra.
Like the Pulse, the Echo's primary features won't function with standard plain paper, you'll need to invest in dot paper to make the most of the pen. At the time of writing, a set of four Livescribe A5 notebooks retails at around £15, and if you can't print them at home, that represents a considerable markup compared to an everyday Pukka Pad.
But considering what this combination of pen and paper can achieve, the benefits may just outweigh the costs.