Introduction
Let's face it, at some point or other, you've probably coveted a Logitech Harmony remote control.
However, with top-end models fetching upward of £300, there's a good chance you haven't been able to sell the idea to your other half - or yourself, for that matter.
Fortunately, Logitech has over the course of 12 months launched cheaper models geared toward the masses. First there was the sub-£300 Harmony 900, then came the sub-£100 Harmony 700 and earlier this year the £49.99 Harmony 600 had us all paying attention.
But £50 for what's still a remote control isn't going to appeal to everyone, so then there was this: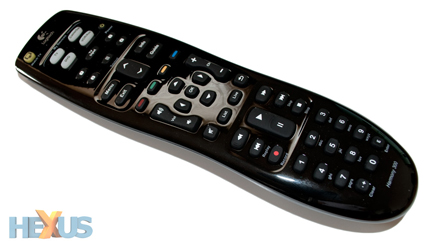 The Harmony 300i, Logitech's most recent addition to the range, might be missing a bell and a whistle or two, but at £29.99 (or less if you shop around) it's a Harmony remote that most can afford.
And yet despite its lowly price tag, it doesn't look at all cheap. Shaped in the familiar ergonomic Harmony curves, the 300i is nicely weighted and comfortable in the hand. Finished in glossy black (a matte-black version dubbed the Harmony 300 is available in the US), it's prone to finger prints and smudges, but its buttons are smooth and velvet-like to the touch.
It's certainly nice-looking, but at under £30 it is of course going to be lacking numerous features found in other Harmony remotes. For starters, the 300i can only control up to a maximum of four devices.
That alone rules out usage in complex audio/video setups, and you need to be prepared to lose a handful of other niceties, too. The Harmony 300i features no LCD display or touchscreen, the majority of its buttons aren't backlit, and the remote isn't rechargeable; it uses a bundled set of AA batteries.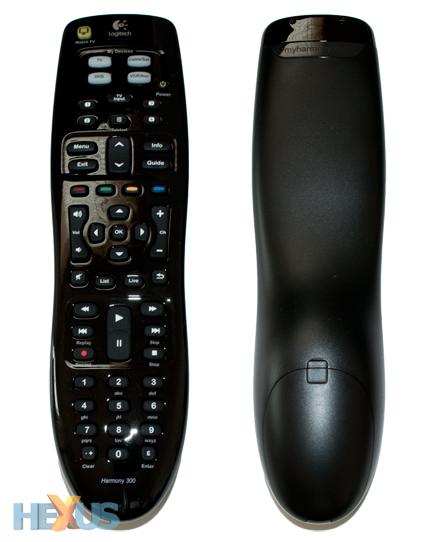 What you do get is a comprehensive set of buttons; 55 in total.
At the top of the remote, there's a single Watch TV button that'll power up your display and set-top receiver and switch to the correct input for watching TV. It's very useful to have, but as far as activity-based functions are concerned, the Watch TV button represents the limits of the Harmony 300i.
Unlike pricier models in the range, there are no other activity-based macro-programmable buttons, so you can't setup one-touch controls for Watch Blu-ray or Play Xbox, for example.
Instead, you have four backlit keys that enable you to toggle between programmed devices; they're labeled as TV, Cable/Sat, DVD and VCR/Aux.
Below the My Devices section, you'll find the power button - which confusingly isn't right at the top - as well as a TV Input toggle and four programmable buttons for your favourite channels.
From here on in, the Harmony 300i is almost identical to the mid-range Harmony 600. The middle of the remote houses your up, down, left and right navigation keys, as well as volume and channel rockers, while the bottom half is made up of PVR controls and a numeric keypad.
Almost everything you're likely to need during day-to-day use, though we'd liked to have seen a dedicated subtitles button.
The hardware seems to be simple enough for not-so-technical users, but how about the setup process? Harmony remotes of yesteryear required a fair bit of patience, but with a new market in its sights, Logitech has revamped the Harmony 300 setup to make it easier than ever before.